Discussion Starter
•
#1
•
Kind of a long post, sorry. Important things are right past the picture
Just got a new job recently and had some money to pour into the X. Decided on doing the system first since my truck is pretty much street use other than occasional camping trips and hitting mtb parks.
My X is an 05 SE that came with the rockford system, but wanted a little more volume.
Anyways, heres what came in the mail today (sorry about crap cell quality)...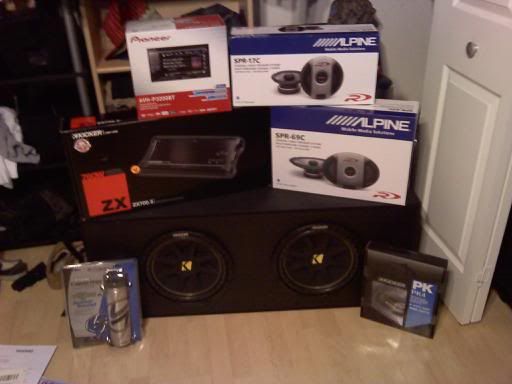 Headunit: Pioneer AVH-3200 BT
Front door speakers: Alpine Type R 6"x9"s
Rear door speakers: Alpine Type R 6.5"S
Amp: Kicker ZX700.5 (rated 960watts, 4 channels @ 85 watts and seperate sub channel)
Wires: Kicker PK4
Capacitor: Lightning Audio 1 Farad
All sitting on top of my custom sealed sub enclosure loaded with a pair of Kicker Comp 12" (in parallel). If anyone wants details on the box just ask, it was a pretty easy build and fits flush against the back seat (does take up a ton of cargo room though :/ )