Wednesday December 19th-
After Doing All that work I had forgotten to replace the Thermostat bypass... So itblew and Now I have to tear back into it again to change it.
Ok New update. Halloween Night.
I Have been looking for an Xterra in poor poor condition to do my 4x4 swap on My current X. Well One night I saw an advertisement for a 2001 Xterra on Craigslist. So that I can bring it back I had both my brother and my mother tag along. So we headed off to durham which was roughly 1 hr 30 minutes away. The Truck was posted at 1700OBO
We arrive and purchase the Xterra for 1500 thinking the motor is shot and has a bad headgasket leak- according to their mechanic. On the way to autozone with the X and the windstar the X starts to overheat as expected. I pull over into a waffle house parking and look to see what I can find. I find the upper and lower radiator hoses are torn on the backside.
So As I am looking my mother shouts. "My vans overheating! its overheating!. I dismiss it as I thought she was trying to rush me. She yells it again so I tell her to turn it off. Her heatercore hose snapped.... Awesome. So We get the Xterra to advanced auto and begin repairing the hoses in the parking lot with their tools.... Anyway It gets back together and does not overheat at all while idling or Driving UNDER 60 MPH. So we drive back to the windstar and rig up her hoses to get it back to raleigh.
The silver X started to overheat 2-3 times on the way back on the highway. This is how I figured out anything under 55-60 it will not overheat. So I trekked back to raleigh going 45 Miles Per hour lol. Once back to Raleigh. I had a decision... Tear it apart or keep it or maybe even sell it. Well after staring at it through the window contemplating its fate It grew on me. I decided to keep it. Upon deciding that November 18th I decided to do a whole make over on the coolant system.
I pretty much replaced The radiator all the hoses I could see including tranny lines. Thermostat, waterpump and with that the timing belt with Drive belts. The Silver X has gone 128K with no belt change.
Pics will follow as soon as I get them uploaded.
The radiator in the Silver X was the radiator in my Metallic Green X. I decided to do the supercharged Radiator swap on my Green one. This freed up the radiator in my Green one which became a donor for the silver one.
So now I have Silvia and Olivia. :love-flower-big:
Current Mods to Date (October 22, 2012)
[X] Removed Mud Flaps and Side steps
[X] Painted Plastics Flat Black
[X] Removed Resonators
[X] Stealthed Rims
[X] Weather tech Trunk Protector
[X] Black Microfiber suede headliner
[X] 2" Body Lift
[X] PML and cranked up Torsion bars W/ Revolver shackles.
[X] Total Chaos IAB
[X] New 305/70-R16 Falken Wild Peaks.
[X] 2002 Supercharged Xterra Radiator swap.
Finally I have the time to sit down, relax and start my Build thread.
A little background - I began driving at the age of 14. I learned to drive in a teal Honda CRX which my mothers boyfriend gave me. I crashed it into a tree while driving through the woods because I forgot to disengage the emergency brake. After I wrecked that my mother passed down to me a 1991 Plymouth Voyager for DD to school and back. It had red velvety interior with Burgandy red paint. All in all a Creeper van or as my girlfriend calls it the candy van.
I drove The creeper van from the age of 14 up to the age of 19. Around this time I decided it was time to get my own vehicle much to my mothers dismay. If it were up to her I would probably still be driving the Voyager.
I then Purchased my 2002 Nissan Xterra 2x4 with 96,000 Miles for 7,500. I purchased it at 4:46 July 17th 2010. Its immaculate condition and well kept interior made perfect for me. The owner before me actually stitched up the drivers seat where it started to wear. It was also run on synthetic its whole life. 2 weeks after I brought it home my brother purchased The Pathfinder . The creeper van is in the picture. Try to find it.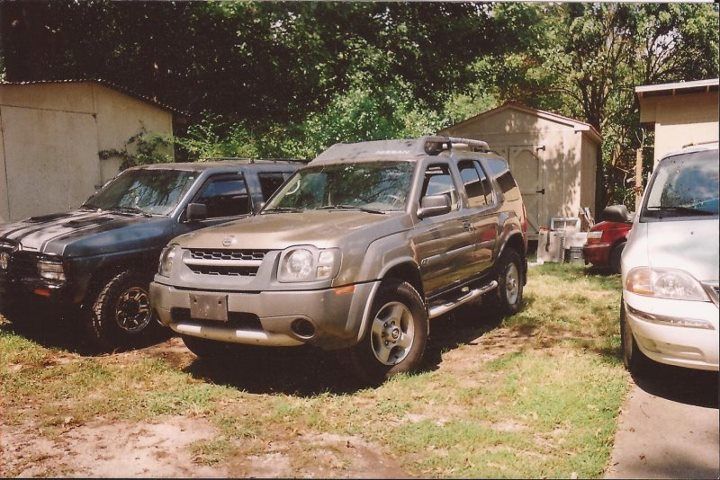 I then decided the Xterra needed a touch up and a face lift. I removed the step-rails and the Mud-flaps and then painted the bumpers. I used Flat Black Spray Paint by Krylon and Made an afternoon out of it.
My girlfreind helped me clean the bumpers(yes I bummed the boring part off on her, sue me)
Posing after Touch-up with Step-rails and Mud Flaps removed.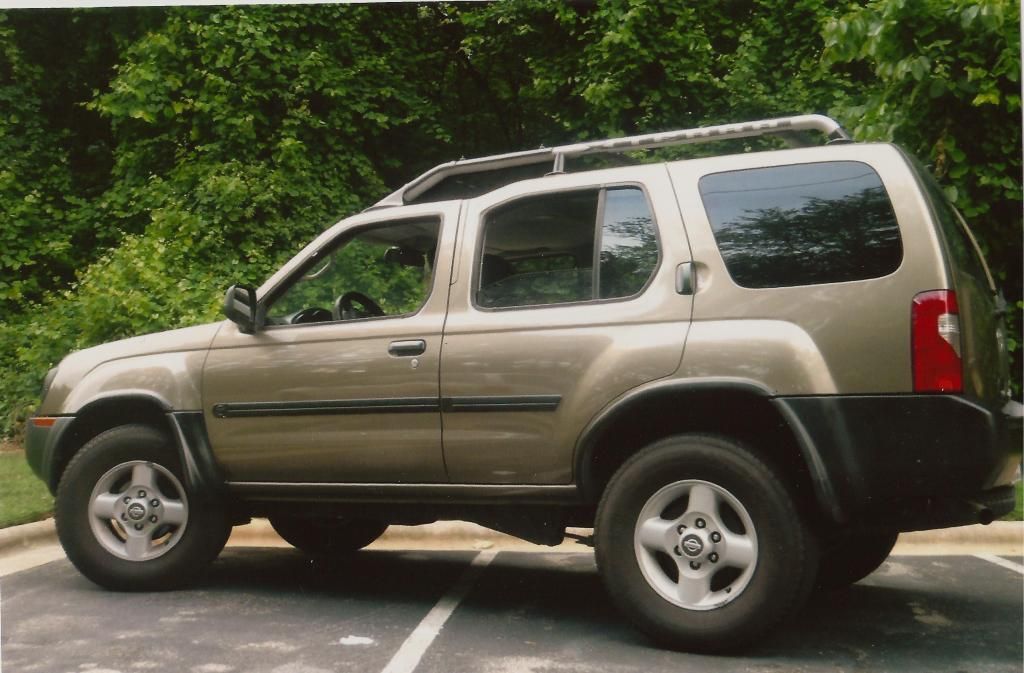 After a while I decided that was not enough and Decided to stealth my rims. I used a good DIY on here but I do not remember who wrote it.
At school with my recently painted rims.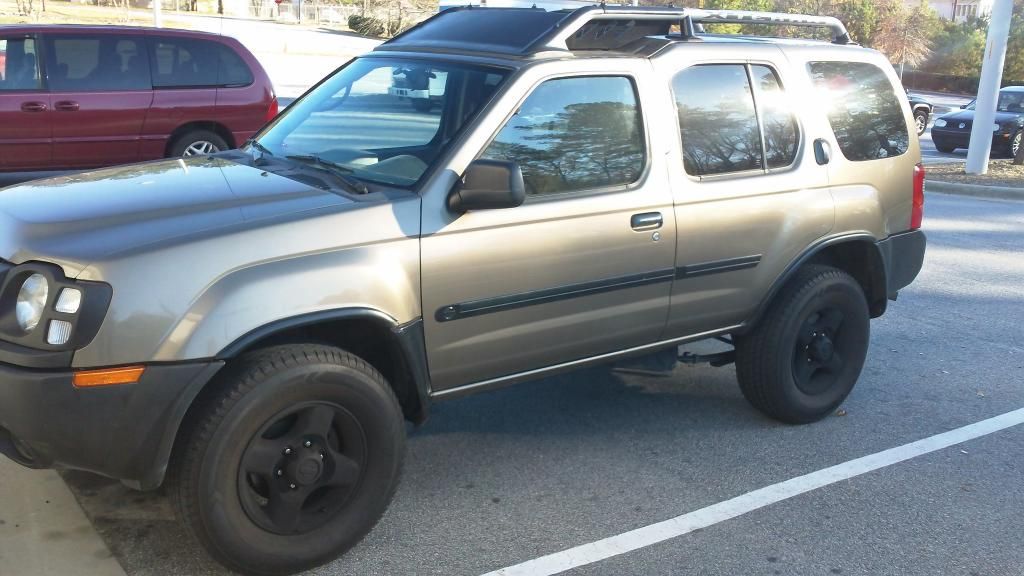 I then decided to do my headliner since it was sagging to the point that It was touching my head. I do not have any real good pix. While I had the headliner out I did paint my "OMG Bar", Courtesy lamp housing, and the tweeter covers with Flat Black Paint. No Pix yet Sorry
.
Now you may have been thinking Olivia? this is the name my Girlfriend and her cat have nicknamed my "eX" lol.
June 1st we moved out and Were looking for a place to stay. Shortly before moving an awesome guy named ImageOmega invited me to a ModDay to help me with my Lift. I installed the 4x4parts.com Revolver shackles and a 2" Body Lift that I found from some guy on Craigslist selling the whole BL for $100. What a steal! The Revolvers were purchased from a Member on ClubX whos plan for his X changed.
Sorry guys it took me so long to get some of these pics up but here ya go. If you need some I can send them to you to!
Current Mods!
Body/Exterior
[X] Removed Step rails and Mud flaps
[X] Painted plastics Flat Black
[X] Stealthed Rimswith rustoleum spray on Bedliner.
[X] 2" Body Lift
[X] PML with revolver shackles for .75" Lift
[ ] Heuss33's Custom Headlights
Engine
[X] Castrol Syntec 5W-30 Oil W/ Bosch Filter
[X] Resonator Delete
[ ] Mobile1 Transmission fluid
Interior
[X] Headliner done in Microfiber Black suede and a few interior panels painted Black
[X] Weather tech Cargo Mat
[ ] New Carpet
[ ] Led Accessory Lights
Dreams.
Nitrous 75lb Shot
SAS
Rims - Not sure which ones yet.
Schrockworks Skid Plates and Rear bumper
RLC Front Bumper W/ Winch
ARB Air Locker
MOD DAY PICTURES!
Onward to Pictures!
At the mcdonalds in Charlotte April 28th?? or 29th? It was a sunday o.o Even better my birthday was April 23rd.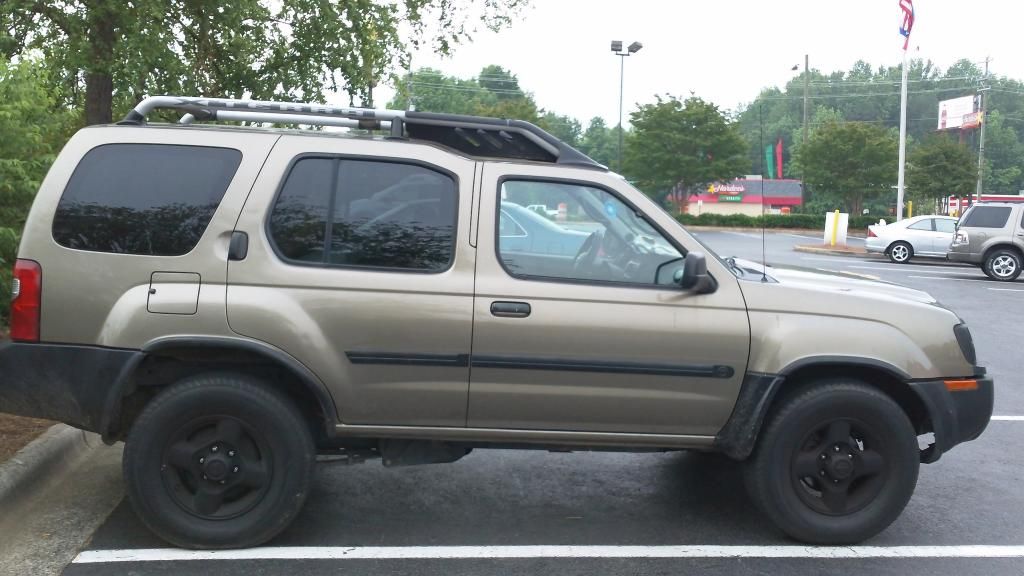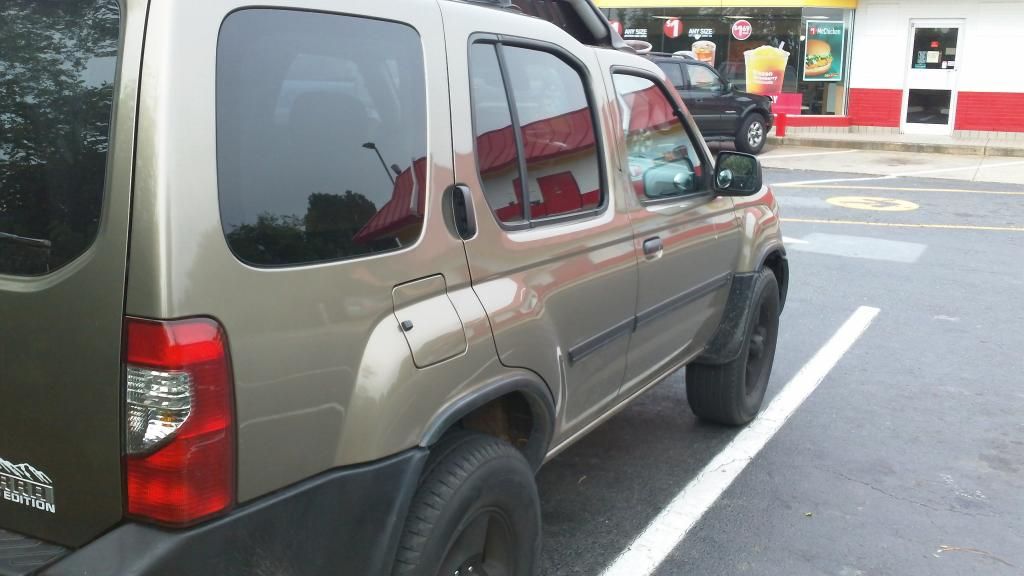 Tying my Steering wheel according to the DIY.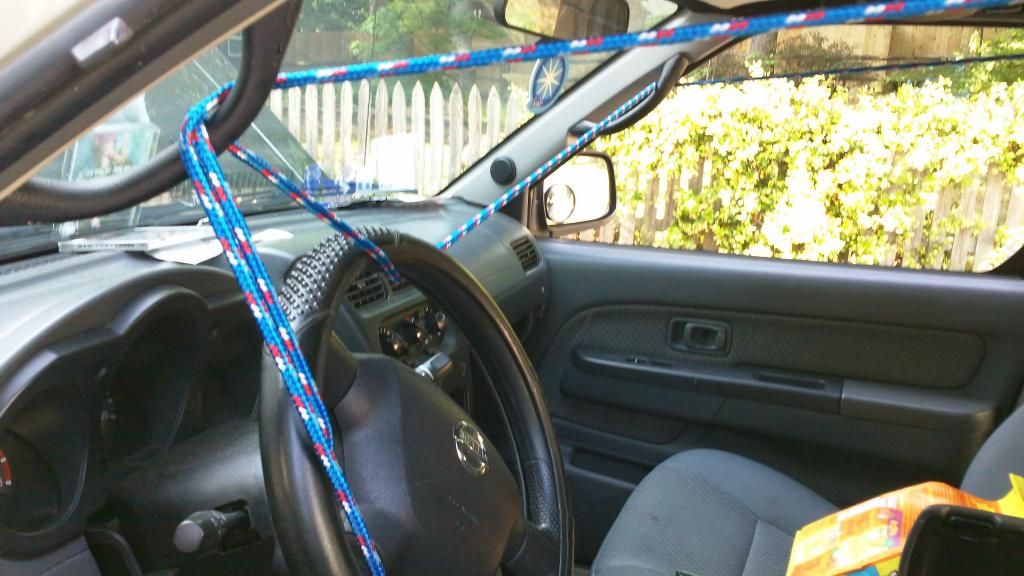 Making Progress! We got the bumpers off and began working on those stupid White plastic Body Bolt Covers. the DIY did not mention them :feuerkopf-big: they were a PITA. we ended up just breaking them all apart.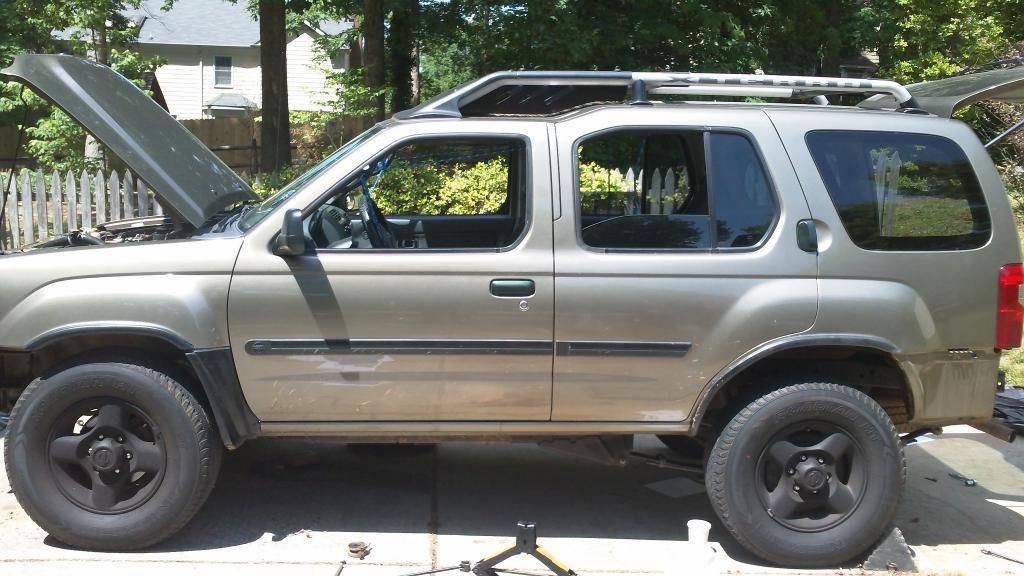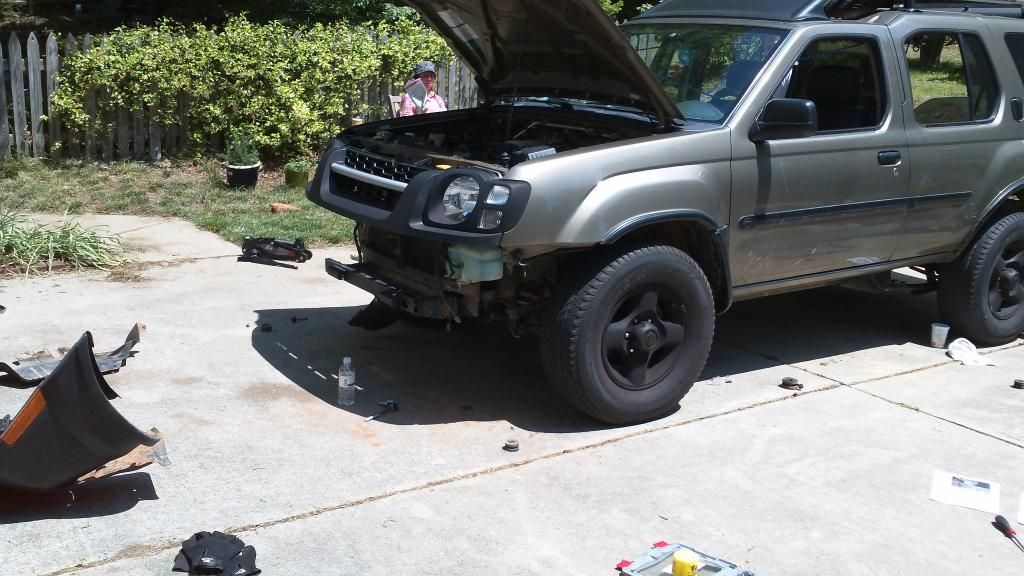 Mod day was not all about me! Here is some of Robcary! Sorry Omega I cannot find pictures of you!
First Step removing the bumpers. This took him a long time since the bumpers had been rigged up We already had 1 puck in.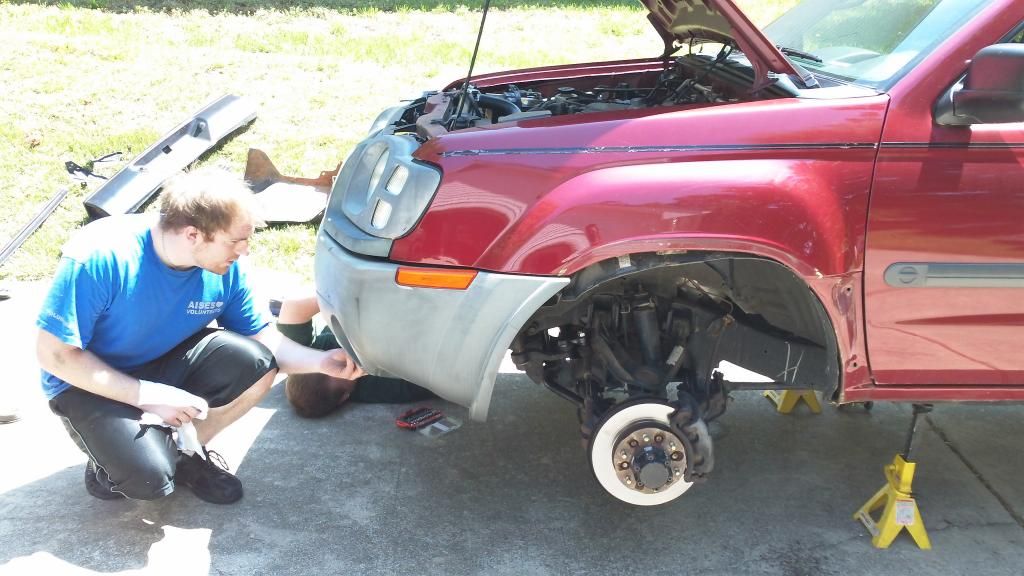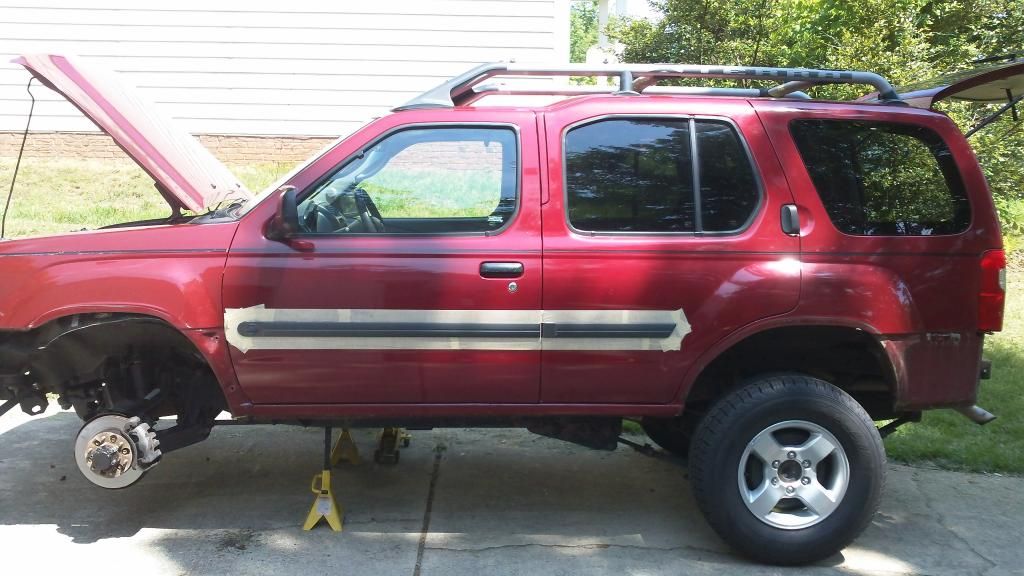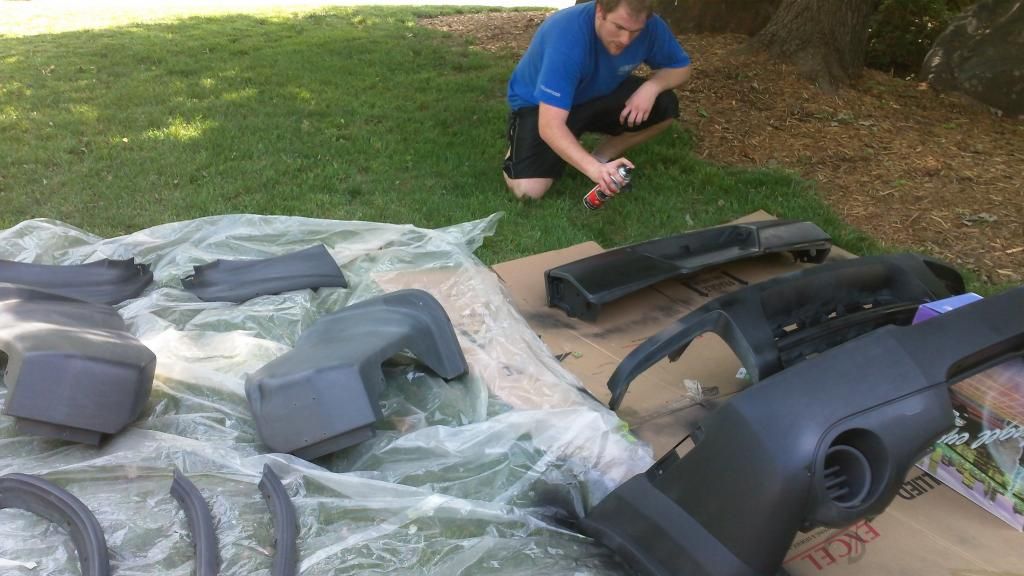 Close up of his plastics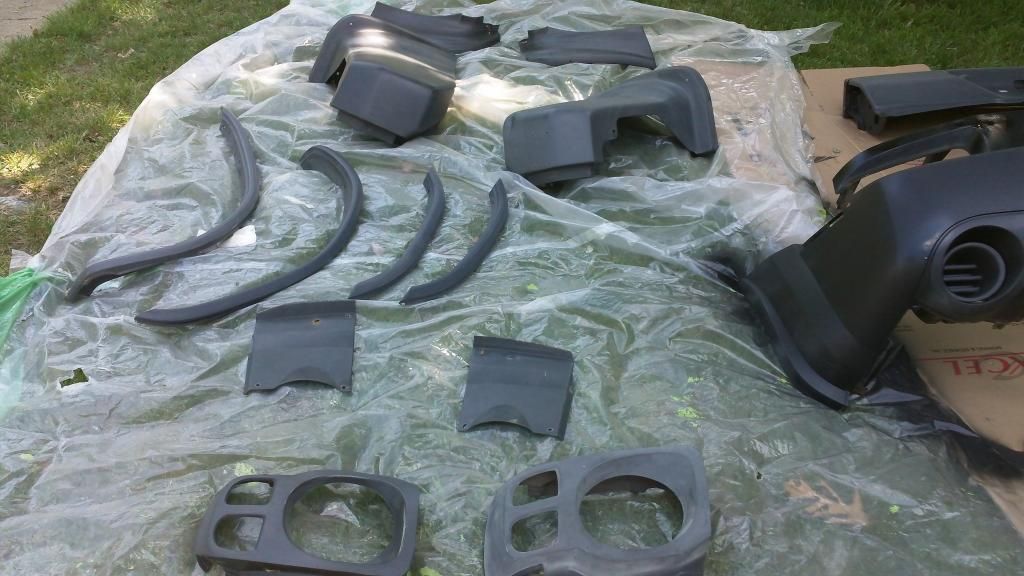 Putting the front puck in! I am surprised that flimsy piece of metal held the whole truck! we thought it was going to crumple.
Boo Bird Poop ruining a perfect Picture.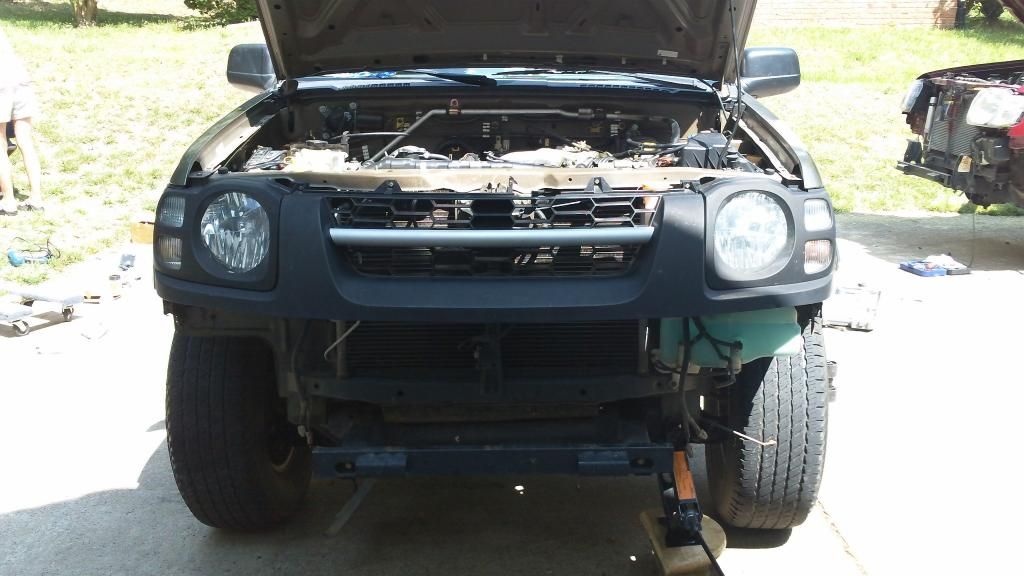 Oh No! I smell and see water/coolant "eh we will figure it out later"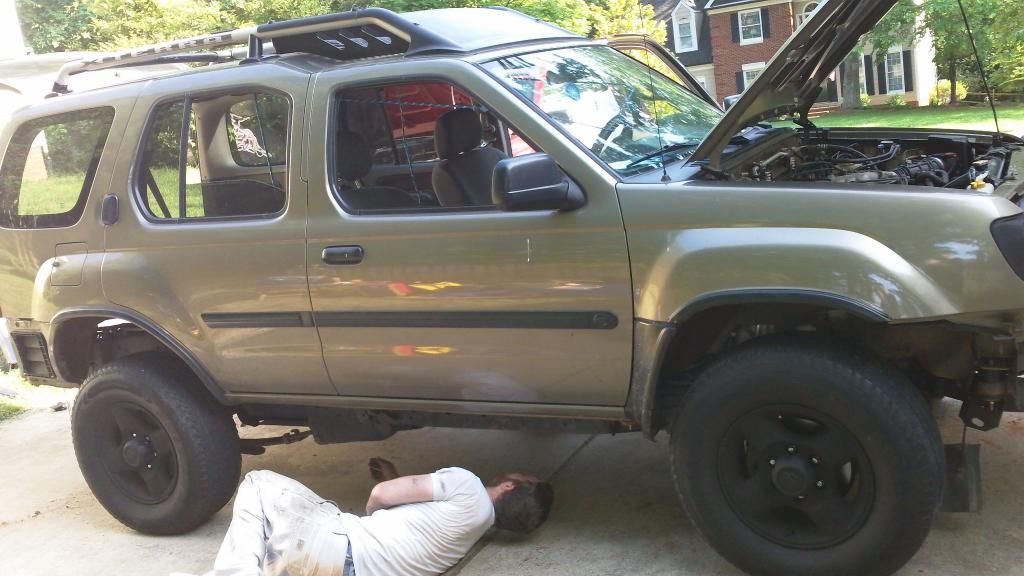 Difference in height before Shackles!
Body Lift Complete! Thank you ImageOmega!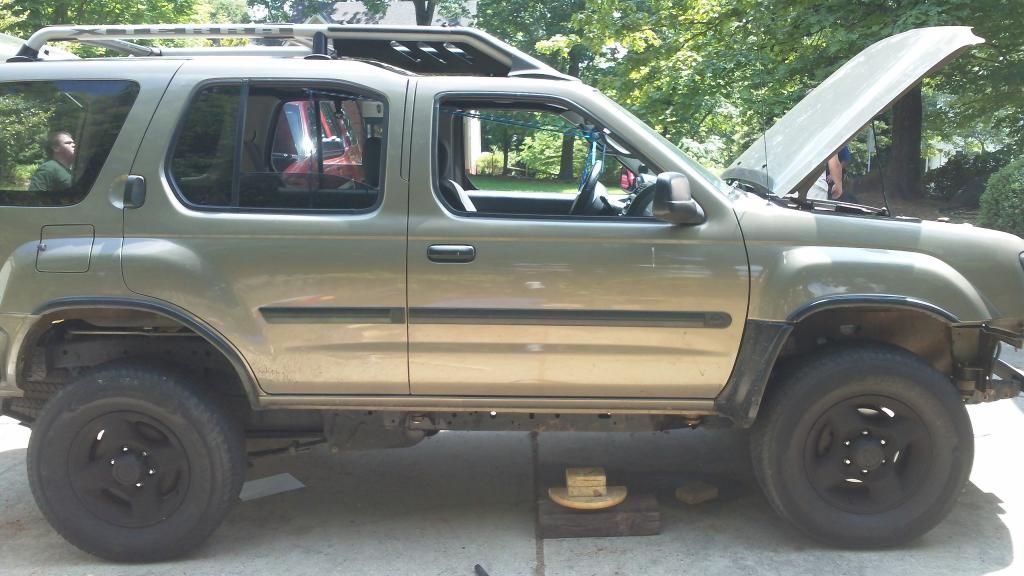 On to shocks! We went to do his shocks and the camera lady did not follow. :thumbsdown-big: surprisingly resulting in no pictures of ImageOmegas awesome Rig
After the shocks were put on ImageOmegas girlfreinds/wife decided to cook us burgers and hotdogs and dang. They were good. cannot seem to find the picture of the dinner table but I will upload it when I do.
After dinner the Shackles were put on with no real problems. We then decided about 6:45 to check to see where coolant was coming from and woe to be me. My heater core had snapped. Luckily we made it to Autozone Just before it closed at 7:30 to grab some hose and adapters to rig it up so that I could get home before school tomorrow.
Shortly before this time Rob and his brother had to go home and off they went after a great Mod day.
Coming up to 9:00 it was time for me to make the 2 hour journey back home.
About 25 minutes out the CEL came on and scared my mother. I told her its no biggies. :noworries: It is probably just the evap lines that snapped. I knew this because I read the DIY!
We Pull over to get some gas about 10 minutes later and the Truck will not accept any. It shut off the pump every 75cents. Now I knew it was the evap lines. I felt pretty good. About 20 minutes later we stopped at a wendies and as we pulled in I started to hear a loud banging sound coming from the back of the X. As I was orddering I told my mother to get out and go look at the exhaust. The shackles were butting up against the against causing a clanging. Once again no biggie. The rest of the night went by pretty uneventful. Woke up went to school and by tuesday decided its time to Finish the job.
I went over my friend rickies house and bean racking his brain about ways to put the bumper up as I was fixing my evap lines and Fuel lines. I stuck the Scan tool on the X to find out what codes and I got two evap codes and the Knock sensor code. Once I repaired the Evap lines and Fuel lines all three codes vanished never to be seen again. This was around the 30th. Ricky was not able to think of any way to mount the bumpers until he actually saw them off the vehicle. To fix the exhaust rubbing against the Shackles we took a torch and bent the exhaust about one quarter of an inch to the right.
I drove with no bumpers for probably about 2 weeks until I had time to mount them.
To mount the back bumper I decided to redrill new holes to put the bumper back on. This way I could return it to stock or have it on with my 2" BL.
The front bumper was a little trickier. after about 45 minutes of brainstorming ricky had an excellent idea as to what we could make a spacer out of. We got the tongue of a trailor that happened to be 2" wide and we used that to lift up my bumper. This was nearly 10X more beefier then the Spacer provided in the Lift kit. I am not even sure it was provided. Most of the parts we could not figure how to use :huh: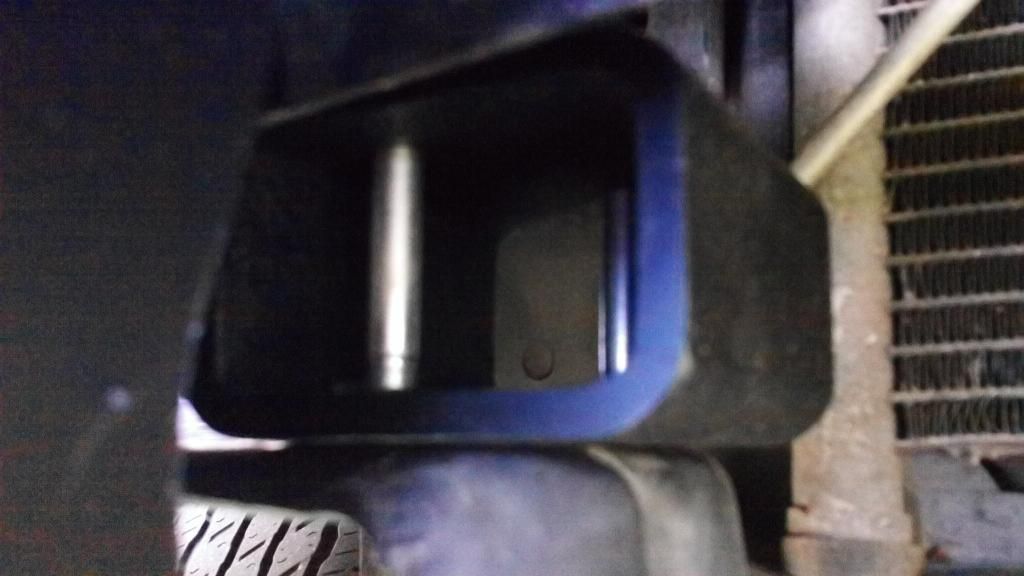 A few days ago I decided it was time for some meat on the X so I picked up some old old thornbirds and rims for $100. I unmounted and mounted the Thornbirds myself Manually. It was very tiring and took 5 hours to do so but here is the before and after. Sorry they are not at the same angle. You can see where the Bedliner was taken off where I Manhandled them in the Manual mounter. I was surprised how little actually came off as I was doing it.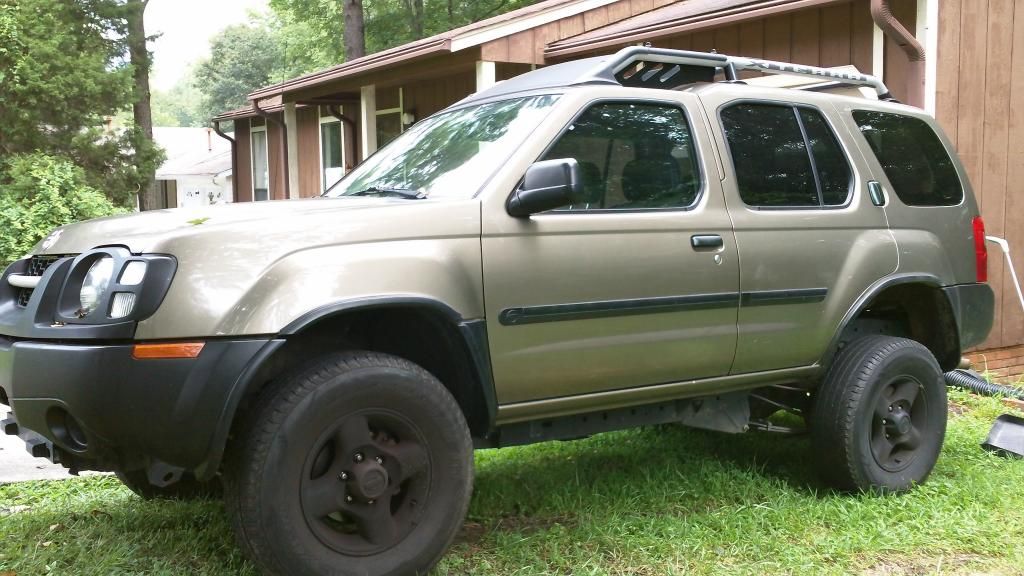 THornbirds!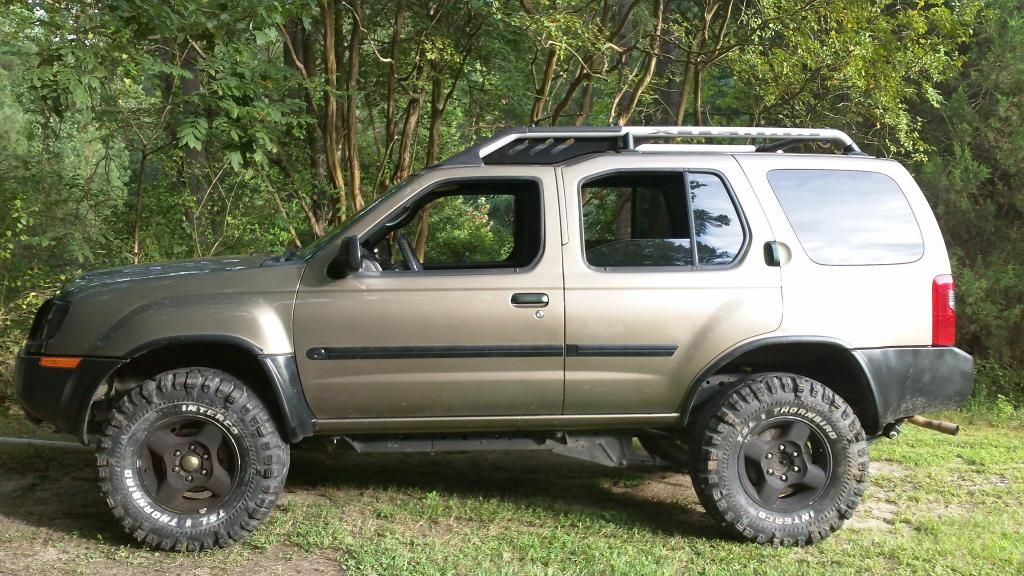 So far this is my x, Olivia as it stands today. I will keep updating this thread and hopefully get alot more pictures if I can. Sometimes I just do not think about taking pictures
.
WishList - I will update later when I have more time.
Right now I am wondering what my next mod will be. I am thinking maybe ordering some new carpet. Since my Carpet is gone. Maybe some Jade Green or Black carpet from Stockinteriors.com W/ Painted interior plastics.
Does anybody know a good paint to paint the interior so it does not look spray painted?
(October 29/2012)
Ok I finally got my new tires and Had them put on last week. I will try to get some good Pictures but with the weather as bad as it is getting a good picture may be hard.
I purchased 4 Falken WildPeaks from Discount tire for $200 a piece shipped to my door. I am running them at 50 PSI as the rated Max for them is 65. They appear to be made for vehicles with alot of weight or whos weight varies.
At 50 PSI the tires drive and handle wonderfully. very good road manners. I have yet to try them off-road yet but if it happens I will try to get some pictures.