2000 Xterra XE 4x4 3.3L AT
Discussion Starter
·
#1
·
2000 Denim Blue XE
Automatic 4WD
3.3L V6

Current Mods
Suspension/Steering
-
2" Body Lift
-AC 3" Articulator Suspension Lift (Revolver Shackles, UCA's, SAW Torsion Bars, 3 Pack Add-A-Leaf, Bilstein HD Fronts, Bilstein 5100 Rears)
-
Total Chaos Idler Arm Brace
-
Grassroots 4x4 Centerlink
-
Bandit 4x4 Idler Arm Bushings
-
AC Heavy Duty Tie Rod Adjusters
-
Urethane Low Profile Bump Stops
-Rear Sway Bar Delete
-Front Sway Bar Delete
-
Extended SS Brake Lines Front and Rear
-
BFG MT T/A KM2 Tires 33x12.5x15
-
Cragar Soft 8 Steel Wheel 15x8 4.75BS
-
Copperhead Fab Rock Rings
Engine/Drivetrain
-
Rugged Rocks HD Engine Mounts
-
Jim Wolf Technology S1 Billet Camshafts
-
Jim Wolf Technology S2 Valve Spring/Shim Set
-Ported Intake Plenum and Intake (VooDoo Fabrication & Technology)
-Ported/Polished Cylinder Heads (VooDoo Fabrication & Technology)
-3 Angle Valve Job (VooDoo Fabrication & Technology)
-
K&N Drop in Filter
-
Intake Resonator Delete
-
AC Headers With Custom Downtubes
-Nismo Cat Back Exhaust
-
Vibrant Performance Ultra Quiet Resonator
-
Larger Capacity 02 SC Radiator
-
3000 cfm E-Fan Conversion
-
OPTIMA 8025-160 25 REDTOP Starting Battery
-
Mean Green 180 Amp Alternator
-Spicer 1310 Greasable U-Joints
-
ARB Locker (rear)
-
Powertank ARB Distribution Manifold
-
ARB Heavy Duty Air Line Kit
Armor
-
Full Set of Skid Row Skid Plates
-Custom Front Tube Bumper (VooDoo Fabrication & Technology)
-Custom Rock Sliders (VooDoo Fabrication & Technology)
Lighting
-
Retrofitted Bi Xenon Projector Head Lights
-
LED Rock Lights
-
LED Engine Bay Lights
-
Mini ATM Fuse Block
On Board Air
-
Dual Powertank 10LB CO2 Tanks
Audio
-
Pioneer DEH-X6500BT CD Receiver
-
Pioneer TS-G1644R 6-1/2" Speakers
-
Rockford Fosgate Punch P1692 6" x 9" Speakers
-
Cobra 75WXST CB Radio/3' Firestick
Miscellaneous
-Painted Trim and Roof Rack
-Rear Seats Removed
Future Mods
Rear Tube Bumper
T-Case Crawler Gears
Flash the ECU
.
So I spend a lot of time on the road for my job with a lot of downtime in hotels. One evening I grew tired of the usual forums I frequent and went in search of some new forums to lurk around at. I ended up here and have spent 100's of hours soaking in all the knowledge I could and coming up with a plan to resurrect my X and rectify all the maintenance I have ignored over the last 10 years and 160,000 miles.
As it was when I started.
The first priority was to get current on the maintenance I had been neglecting. I re-packed the front wheel bearings and replaced the seals. Next I changed the fluids in the front/rear diffs, transfer case, and transmission and then learned that I was a mere 55,000 miles over the timing belt change interval. So parts were ordered and I waited nervously for the timing belt to snap while waiting for a free weekend to get it done.
To say the timing belt was overdue for replacement is an understatement. With absolutely no effort you could deflect the belt about 45mm…….. sweet variable cam timing!
Basically the belt was stretched to the point that it was 15mm longer than the new one.
I also installed a new radiator as the old one was fairly thrashed. I ordered the larger radiator for a 02 S/C X after reading
this thread
and finding out it would fit. It now runs just a bit cooler but the big difference is that the temperature never changes. Left it idling for 30 minutes in 95 degree weather and the needle never moves. Big thanks to chairmnofthboard for posting the above linked thread.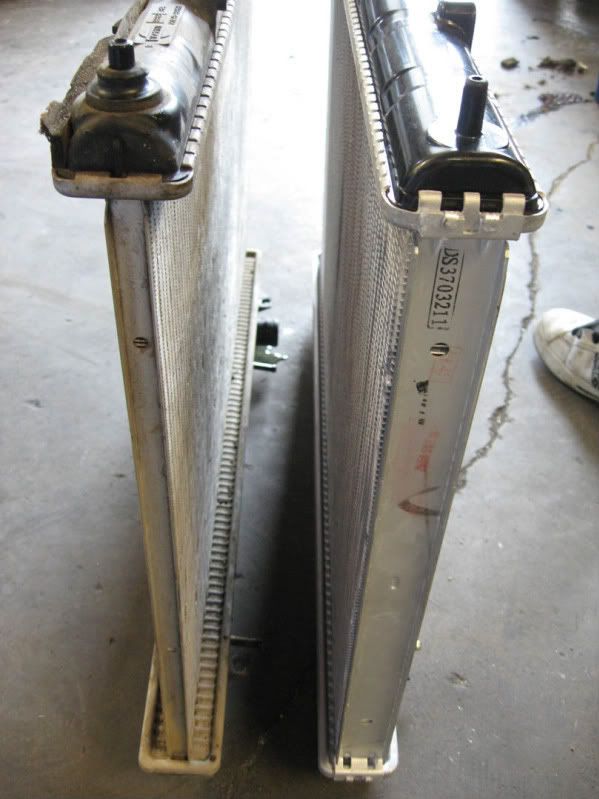 With the basic maintenance issues mostly cleared up I moved on to fixing all the faded trim. If any one project lit the mod fire more than anything it was this one. I stood back and looked at my X after I was done and low and behold there was the truck I loved beginning to creep back from the land of the grocery getter.
The things you find when removing trim….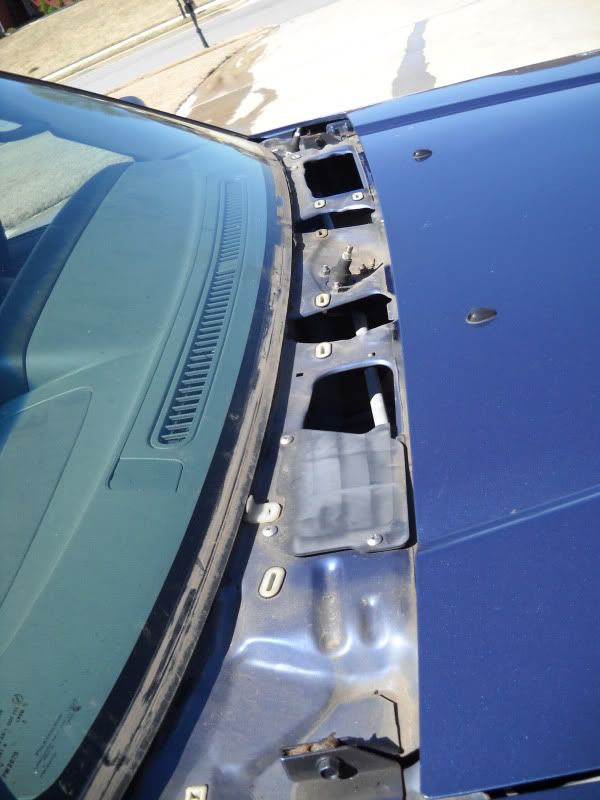 Generally not a good idea to lean the parts you have drying after sanding and washing against the wife's Murano, especially if she catches you doing it. Bad idea.
After the painting….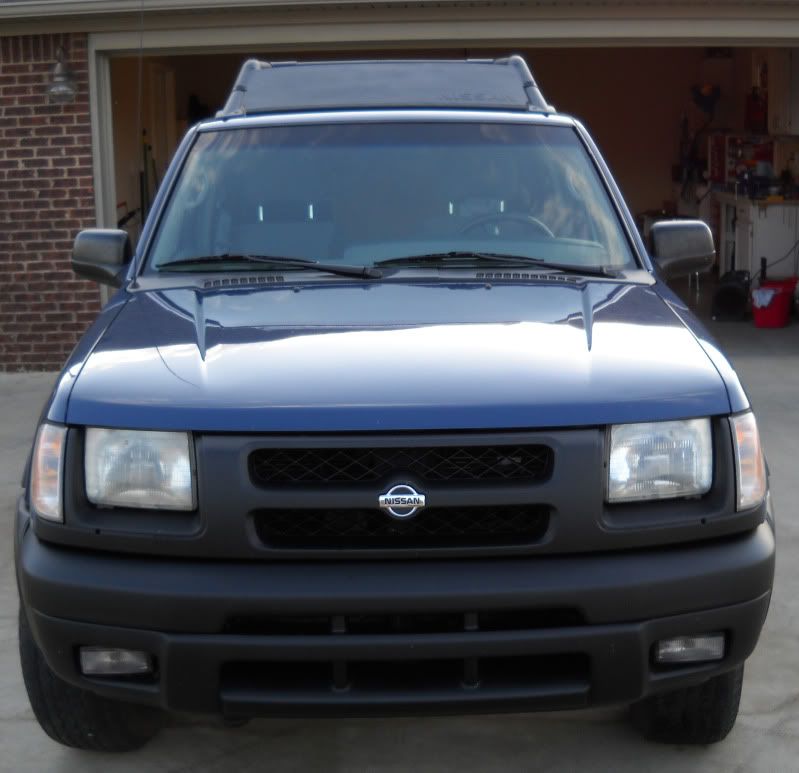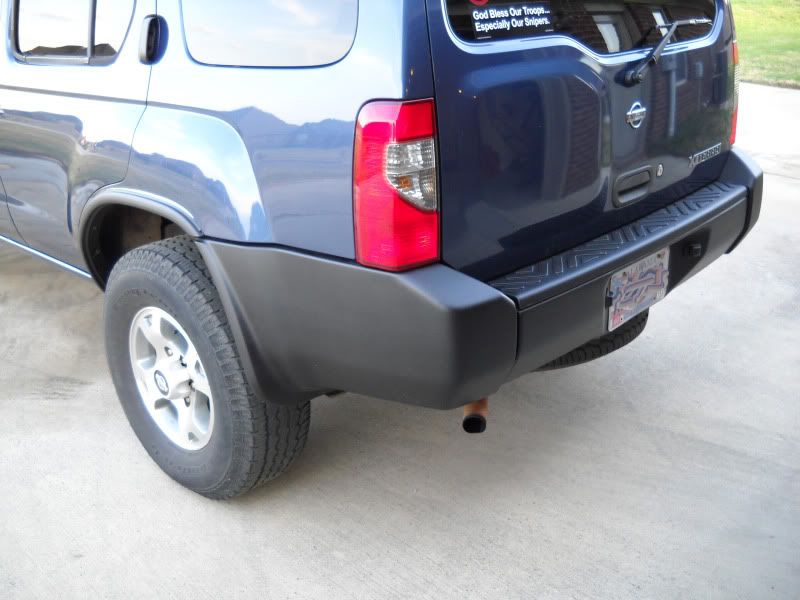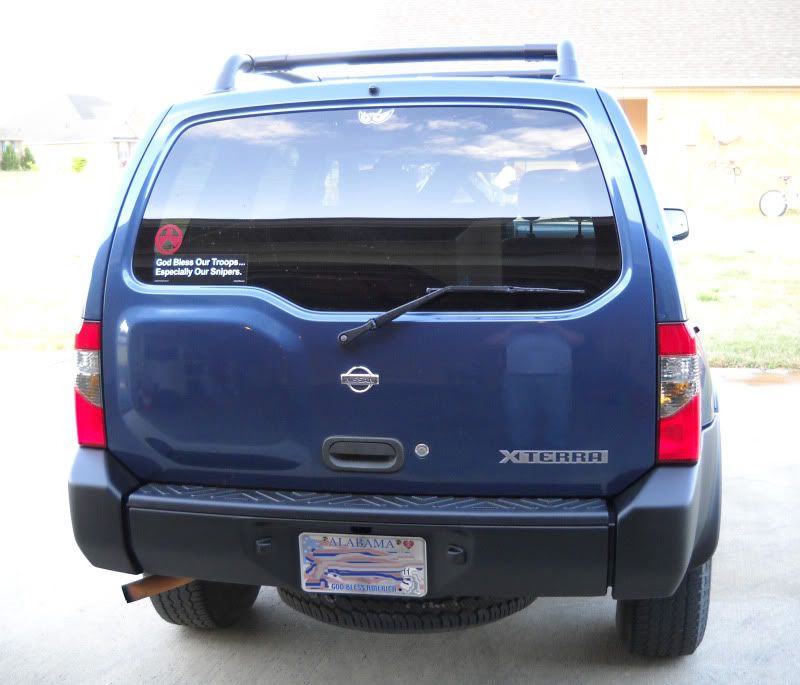 Now I have to find the time to install all the stuff that keeps showing up at my house.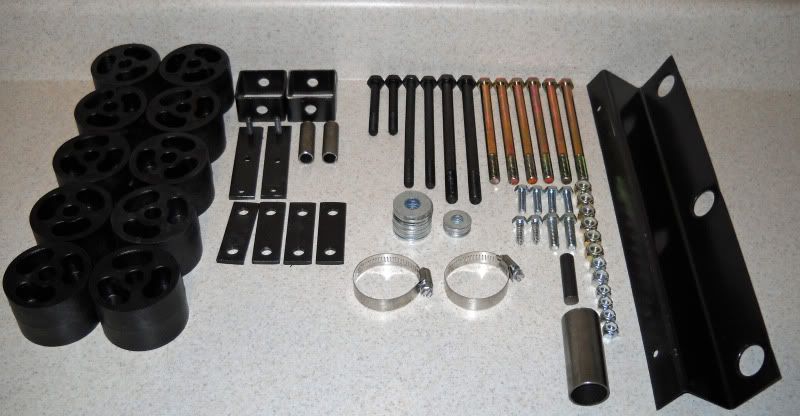 Also have headers and a Nismo cat back to install and shocks and suspension parts on the way.