HOW TO- Adjust your Torsion Bars (Index your front end)
One of the most important components of doing this is is to have properly inflated tires. This is imperative because you must be accurate when lifting.
STEP 1
: Inflate all 4 tires to the same PSI
STEP 2
: On a level surface, place a jack under the front end. Center it. Have a friend view your X from the side. Lift on the Jack until your front end is parallel with the ground and the same height as the rear.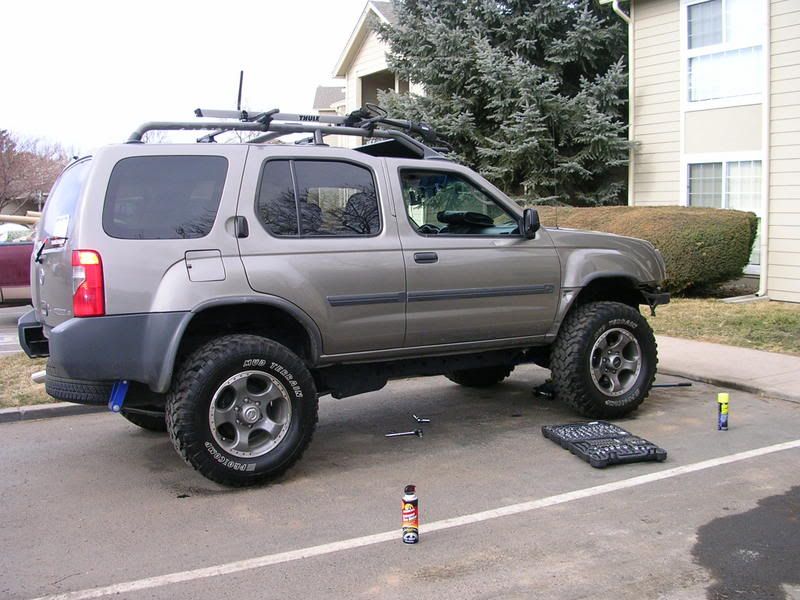 STEP 3
: tighten adjustment Bolt through hole and tighten up until bolt head it completely flush with cross member. The triangle is only used to show that you are flush. You might want to use a straight edge to accomplish this.
STEP 4
: Fine tune adjust these adjusting bolts so that the proper height is reached by tightening (to raise) or by loosening (to lower)
The proper ending location is inside X member with room left to turn.
NOT FULLY TIGHTENED
AND NOT PROTRUDING FROM UNDER THE x member
You may reference this location by observing the UCA in relationship to the bumpstop. The favored distance is a 1/2"-3/4" gap.
You are done! Now go get an alignment!