---------CONTINUED----------
STEP 6.(MAP LIGHT/DOME LIGHT)
THIS STEP IS TO TAKE THE MAP LIGHT IN THE HEADLINERS FRONT PART.
FIRST YOU TAKE OUT THE SMALL PLASTIC/GLASS CLIP.. GET A FLAT SCREWDRIVER..
BE CAREFUL!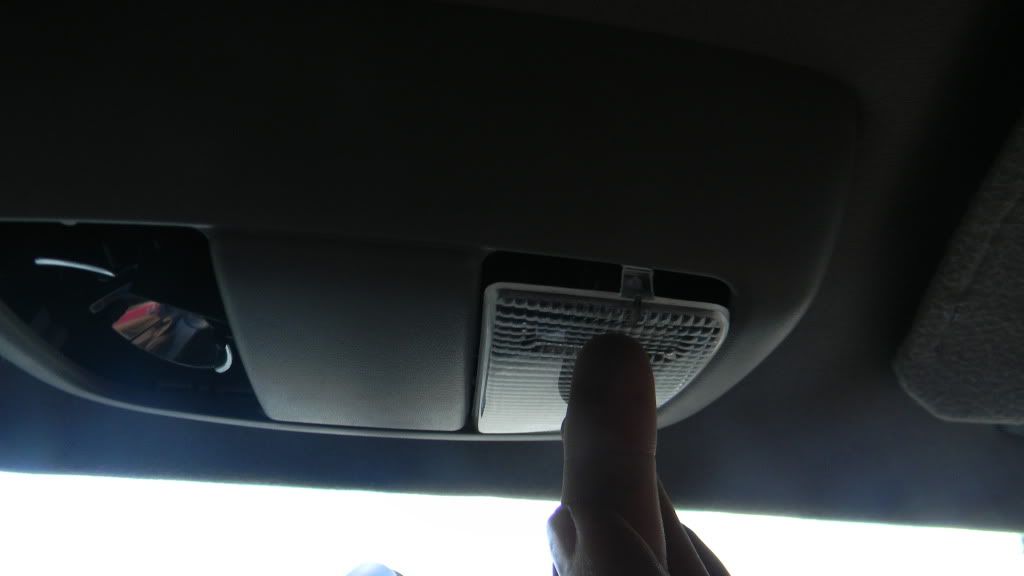 ONCE YOU HAVE DONE THAT IT'S TIME TO TAKE IT OUT.
THIS IS GOING TO BE A LITTLE TRICKY. YOUR GOING TO HAVE TO USE A LOT OF FORCE ON THIS ONE. BUT
BE CAREFUL
NOT TO BREAK ANYTHING!!
THIS DOME LIGHT HAS TWO BIG METAL CLIPS ON EACH END.
YOU'LL HAVE TO BE CAREFUL.. YOU JUST NEED TO STICK YOUR FLAT SCREWDRIVER IN THERE.. AND ONCE YOU GO AROUND IT A COUPLE TIMES IT'LL GET LOOSE. YOU'LL HEAR A LOUD POP SOUND. KEEP IT GOING THROUGH ALL OF ITS CORNERS AND YOU'LL GET IT OUT!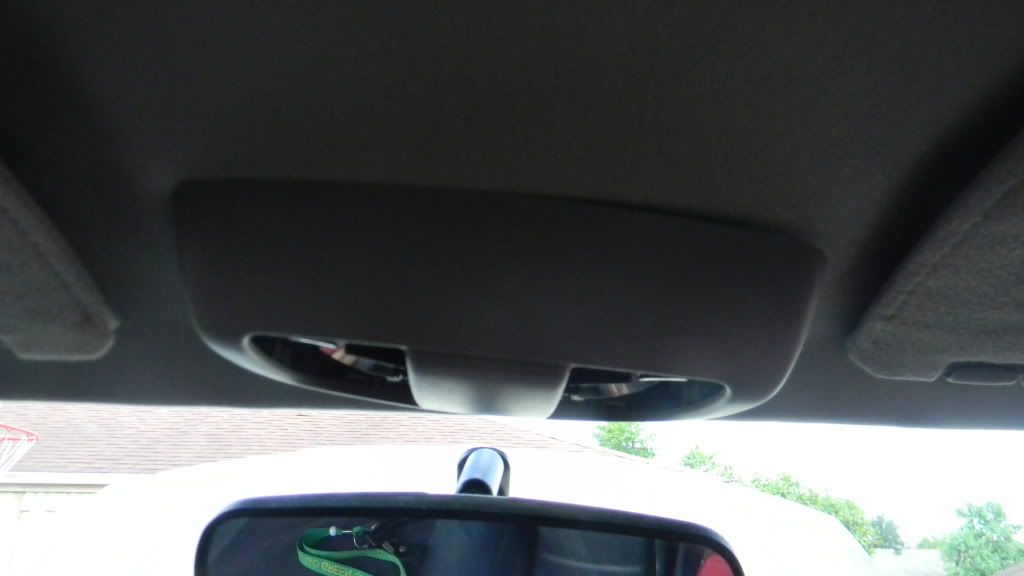 (SEE HOW IT'S POP'D OUT A LITTLE BIT TO THE RIGHT)
NOW THERE'S GOING TO BE ONCE BIG CONNECTER.
GET THAT CONNECTOR OUT AND YOUR GOOD TO GO!
ONCE THAT MAP LIGHT/DOME LIGHT IS OUT.. IT'S TIME TO TAKE OUT SOME SMALL CLIPS..
STEP 7.(SMALL ROOF CLIPS)
THESE LITTLE SUCKERS ARE SO EASY TO BREAK! I HATE EM'!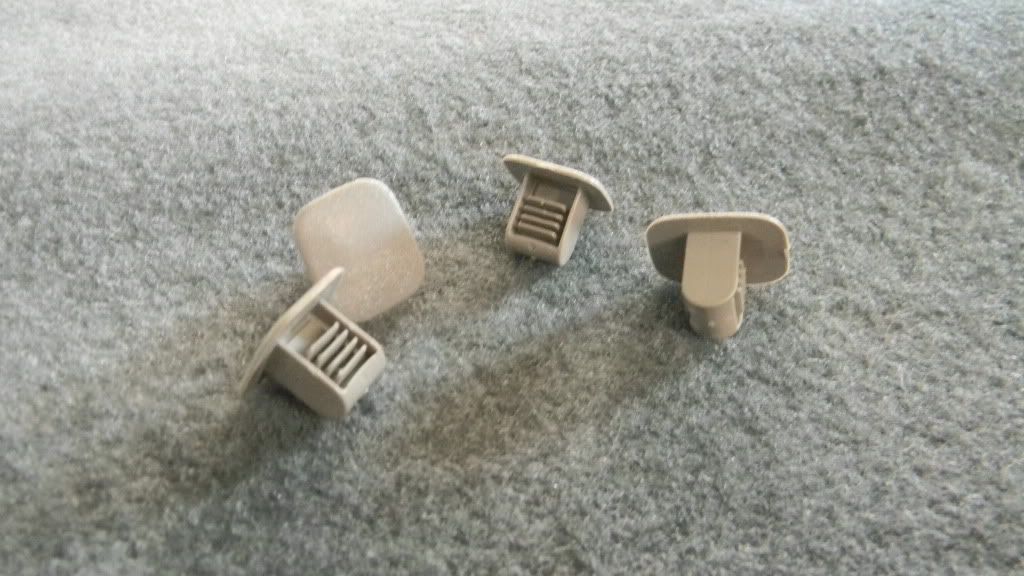 NOW THERE ARE FOUR SMALL CLIPS THAT ARE VISIBLE THAT HAVE TO BE TAKEN OUT!
YOU HAVE TO GET YOUR FLAT SCREWDRIVER AND WORK AROUND IT. PLEASE PLEASE PLEASE BE CAREFUL WITH THESE. THESE 4 CLIPS DO NOT NEED A LOT OF FORCE. THEY WILL EASILY BREAK.
ONCE YOU TAKE OUT THESE FOUR SMALL ROOF CLIPS THERE ARE 2 MORE HIDDEN ONES AT THE BACK OF THE CAR.
NOW THIS PIECE OF PLASTIC HAS SOME METAL CLIPS TO IT. (THOSE X'S REPRESENT THE METAL CLIPS.)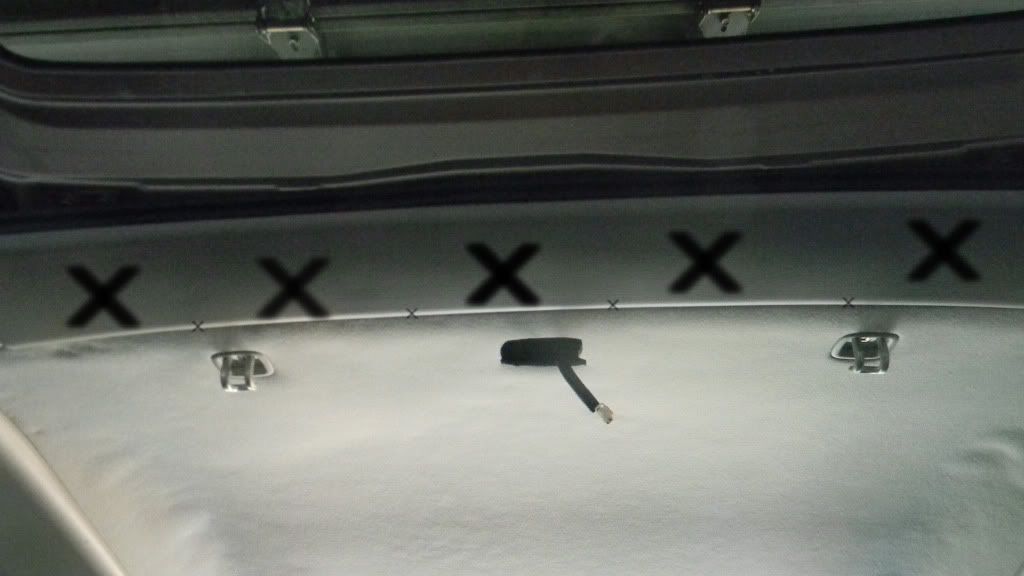 TO TAKE THIS OFF, GET YOUR FLAT SCREW DRIVER AND SLOWLY POP IT OFF. ONCE YOU HEAR A LOUD POP, YOUR DOING GREAT!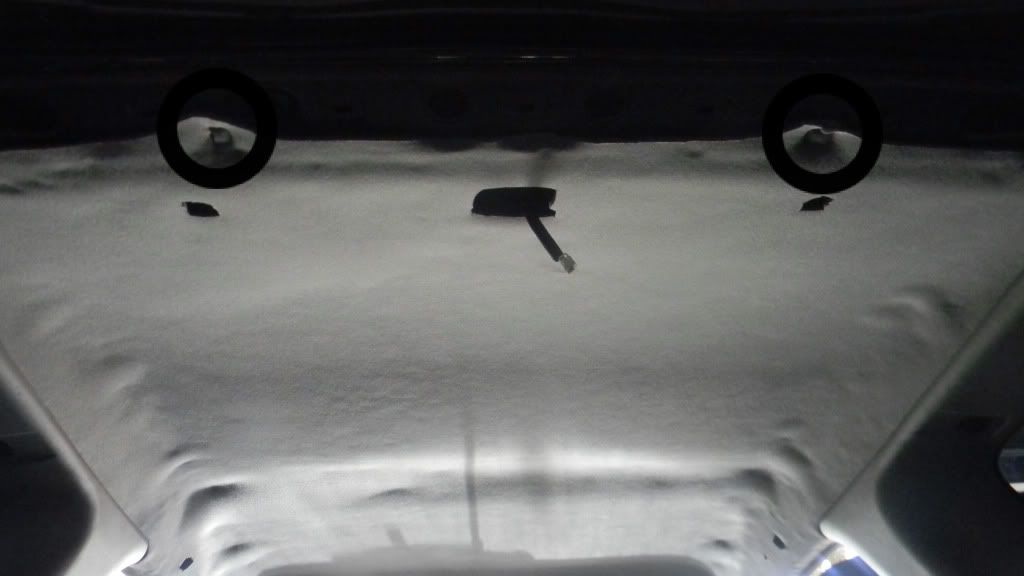 WHAT IT SHOULD LOOK LIKE ONCE THE PLASTIC PIECE IS OUT.
NOW THERE ARE 2 SMALL PLASTIC ROOF CLIPS TO BE TAKEN OUT. JUST LIKE BEFORE, SLOWLY POP THEM OUT. THEY CAN BREAK EASILY!! YOU GOT THIS!!
IT SHOULD BE LOOKING GOOD NOW. THE FABRIC IS SAGGING, AND THERE ARE 2 MORE SCREWS TO UNSCREW.. AND YOUR ALMOST THERE.
STEP 8.(STORAGE ROPE ROOF)
*NOTE THAT THE EXTRA 1 SCREW IS AN AFTER PICTURE.. AND THAT IS WHAT WE ARE GOING TO DO TO IT AFTER WE CLIP THOSE PLASTIC THINGS.*
OK HERE IS THIS SORT OF STORAGE AREA FOR MISC. ITEMS..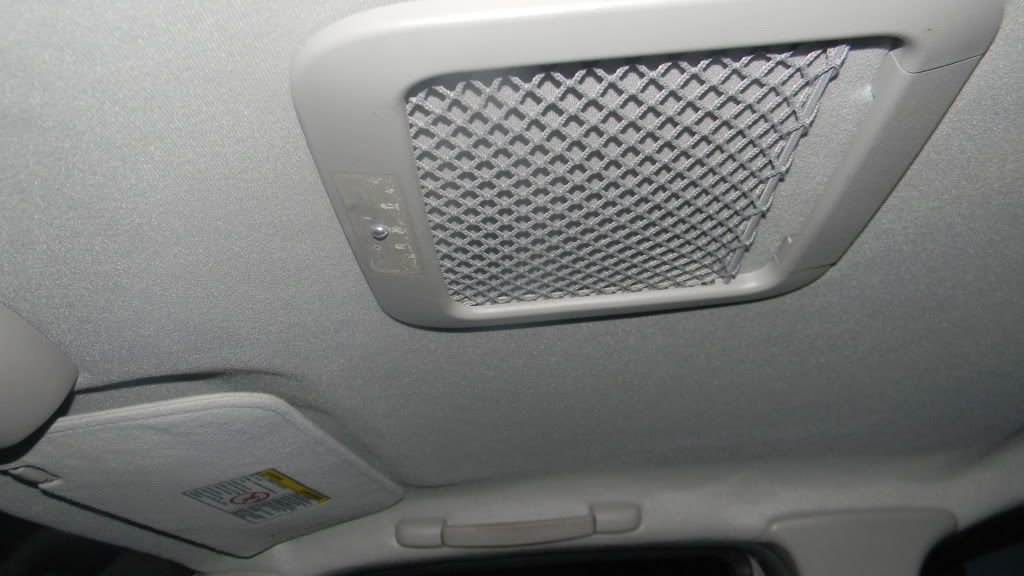 YOU CANNOT TAKE THIS OFF WITHOUT BREAKING IT... IT IS APART OF THE HEADLINER!!! SO JUST WAIT UNTIL THE WHOLE HEADLINER IS OUT, THEN WE WILL START MOD'ING IT.
TO TAKE IT OFF, YOU NEED TO POP THIS OUT WITH YOUR HAND. IT'S REALLY SIMPLE. ALSO KEEP IN MIND, NOT TO MUCH FORCE.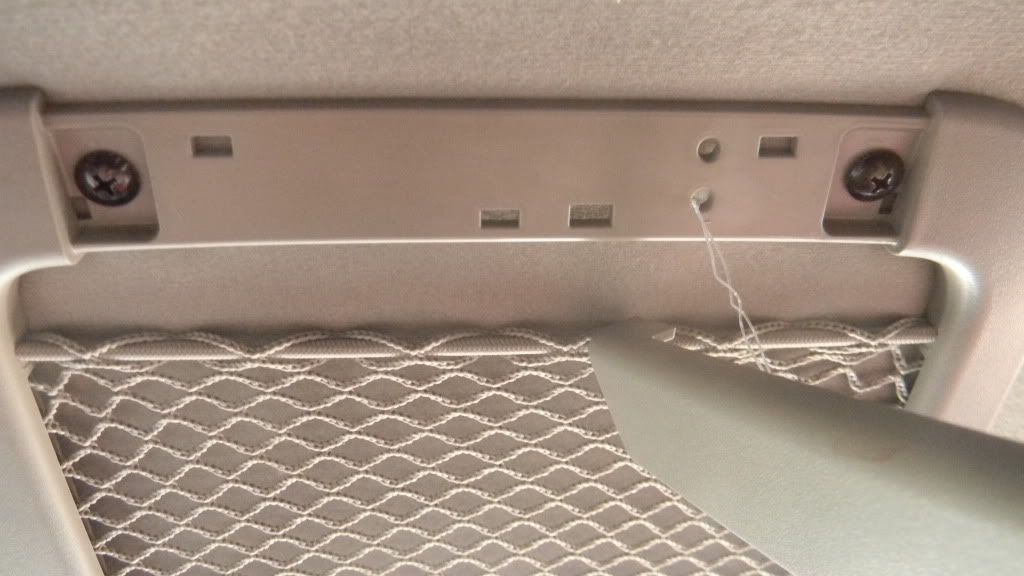 THIS IS WHAT IT LOOKS LIKE WITH THE PLASTIC OFF. IT HAS A LITTLE STRING ATTACHED TO IT. DO NOT BREAK IT, IT'S SUPPOSE TO BE THERE.
NOW JUST UNSCREW THOSE 2 BLACK SCREWS. IT WILL NOT MOVE AT ALL. LIKE I SAID.. IT IS ATTACHED TO THE HEADLINER.. DON'T PULL OR BREAK IT, LEAVE IT ALONE!! WE'LL COME BACK TO IT!!!
NOW WERE ALMOST THERE!!! IT'S ALMOST OFF! NOW WE JUST NEED SOME HARDCORE FORCE/PULLING!! MAKE SURE EVERYTHING IS OUT OF THE HEADLINER. NO SCREWS, LIGHTS, HOOKS, HANDLES.. EVERYTHING IS OUT AND PLACED NEATLY SOMEWHERE WHERE YOU WONT LOSE IT!
STEP 9.(TAKING THE HEADLINER OUT)
THIS STEP CONSIST OF POP'ING OUT SOME METAL AND PLASTIC CLIPS ON THE SIDE PLASTIC MOLDINGS TO TAKE OUT THE HEADLINER!
WE ARE GOING TO START FROM THE BACK AND GO TO THE FRONT!
NOW COMES THE HARD PART. THE X'S MARK WHERE SOME OF THE METAL CLIPS ARE IN PLACE. FIRST OF ALL, YOU ARE SUPPOSE TO TAKE THESE LITTLE PLASTIC CLIPS WERE I MARKED WITH CIRCLES. FOR THESE JUST GET A FLAT SCREWDRIVER AND
POP EM' FULLY OUT
. (THERE ARE 2 ON EACH SIDE) CAREFUL NOW.. ONCE THAT IS TAKEN CARE OF.. YOU NEED TO PULL OUT THE PLASTIC SIDE MOLDING. THIS STEP REQUIRES SOME FORCE. ALTHOUGH NOT SO MUCH FORCE.. WE DON'T NEED TO BREAK ANYTHING RIGHT NOW! ONCE YOU GET ONE SIDE OF THE PLASTIC MOLDING, IT'S TIME FOR THE OTHER SIDE.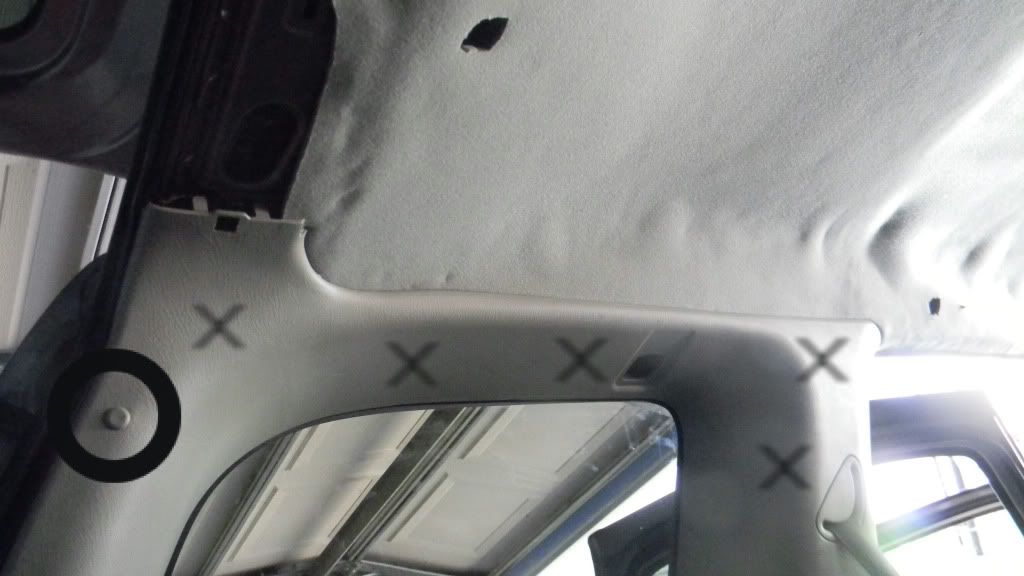 IT'S BASICALLY THE SAME THING. TWO SMALL CLIPS THAT I HAVE CIRCLED.. AND THE X'S REPRESENT METAL CLIPS.. THE TWO X'S THAT ARE FARTHEST TO THE RIGHT ARE PLASTIC CLIPS.. THE REST ARE METAL CLIPS.. BE CAREFUL HERE... IT'S GONNA REQUIRE FORCE TO POP THEM OUT.. YOU'LL HEAR A LOUD POP WHEN YOU GET THEM OUT!
ONCE YOU POP'D THOSE TWO SIDE MOLDINGS, YOU GOT SOME MORE PULLIN' TO DO!
STEP 10A.(MIDDLE, SEATBELT PLASTIC MOLDINGS, AND UP FRONT PLASTIC)
FIRST WE ARE GOING TO POP OUT THE MIDDLE PLASTIC MOLDING WHERE THE SEAT BELT IS LOCATED. I HAVE MARKED IT WITH 2 X'S.
HERE, YOU ARE SUPPOSE TO POP THE PLASTIC OUT. THIS TOO DOES REQUIRE SOME FORCE/PULLING.. YOU'LL HEAR A LOUD POP WHEN IT IS OUT, AND ALSO WHEN YOU CAN SEE THE FRAME OF THE CAR, YOU'VE GOT IT. ALSO WHEN YOU ARE TRYING TO POP THIS OUT, DON'T FORGET TO OPEN UP THE BLACK RUBBER MOLDING THAT IS HOLDING IT. DO THIS STEP FOR THE PASSENGER SIDE, AND ALSO THE DRIVER SIDE OF THE VEHICLE.
ONCE THAT IS DONE, THE HEADLINER SHOULD BE LOOSE.
10B.(PLASTIC MOLDING NEAR DASH)
NEXT STEP IS TO TAKE THE PLASTIC MOLDING CLOSE TO THE DASHBOARDS. MAKE SURE THE HANDLES ARE OFF!!! I HAVE MARKED IT WITH ONE X TO SHOW WHERE THE CLIP IS LOCATED AT.
THIS ALSO DOES REQUIRE SOME FORCE TO POP IT OUT. BUT NOT TOO MUCH TO BREAK THE CLIP. DO THIS FOLLOWING STEP ON BOTH SIDES, THE DRIVERS SIDE AND PASSENGER SIDE. NOW THE HEADLINER SHOULD BE REALLY LOOSE, AND MOVABLE.
WERE VERY VERY CLOSE TO REMOVING THE WHOLE HEADLINER... YOU GOT THIS!
STEP 11.
WELL, AS YOU CAN SEE NOW, THE HEADLINER IS OUT IT'S PLACE! IT IS
READY TO GET OUT THE CAR. THE HEADLINER SHOULD BE SITTING ON THE PLASTIC MOLDINGS...
IT SHOULD LOOK LIKE THIS BUT WITH THE HEADLINER ON!! TO TAKE THE HEADLINER OUT, YOU EITHER PULL IT FROM THE BACK OF THE CAR..(THAT DID NOT WORK FOR ME BEACAUSE THE PLASTIC SIDE MOLDINGS WOULD NOT LET ME..)
SO WHAT I DID WAS RELEASE ONE SIDE OF THE HEADLINER WERE THE HEADLINER IS SORT OF STUCK BECAUSE THE PLASTIC IS HOLDING IT UP... IT IS GONNA TAKE SOME FORCE, AND I HAD TO FLEX THE HEADLINER A LITTLE BIT.. BUT IT GOT OUT ONE SIDE... THEN DO THE SAME THING FOR THE OTHER SIDE... NOW IT SHOULD BE ALL OUT
IT SHOULD LOOK LIKE THIS BUT I TORE OUT THE FABRIC ALREADY..
STEP 12.(TAKING OUT THE STORAGE AREA)
SO THIS LITTLE STORAGE AREA IS COMBINED WITH THE HEADLINER, YOU'LL SEE IT ONCE YOU TAKE THE WHOLE HEADLINER OFF..
THERE ARE 6 SMALL PLASTIC THINGS THAT HOLD THE STORAGE... YOU CANNOT TAKE IT OFF, UNLESS YOU BREAK THOSE THINGS.
WHAT I DID WHAT BREAK THOSE PLASTIC THINGS, AND POP'D OUT THOSE METAL CLIPS... AND GLADLY THE STORAGE CAME RIGHT OFF THE HEADLINER..
WHAT I DECIDED TO DO IS PUT A SCREW RIGHT THROUGH THE PLASTIC STORAGE THING, AND THROUGH THE HEADLINER...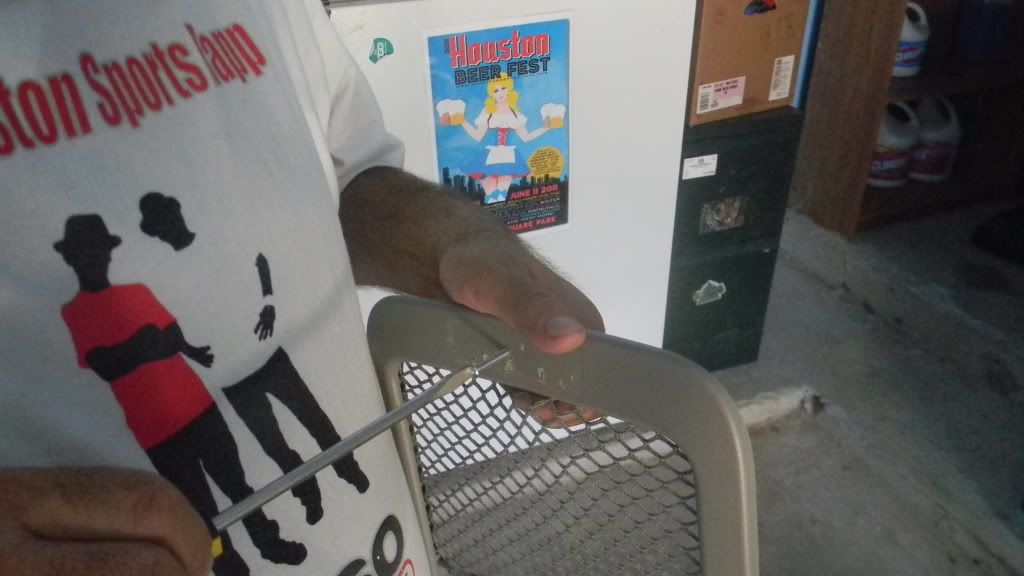 I DRILLED IT DOWN, JUST TO GET THE THE HOLE FOR THE SCREW TO PUT IN, AND SET IT ASIDE.
SO NOW YOU HAVE SOMETHING TO HOLD IT UP..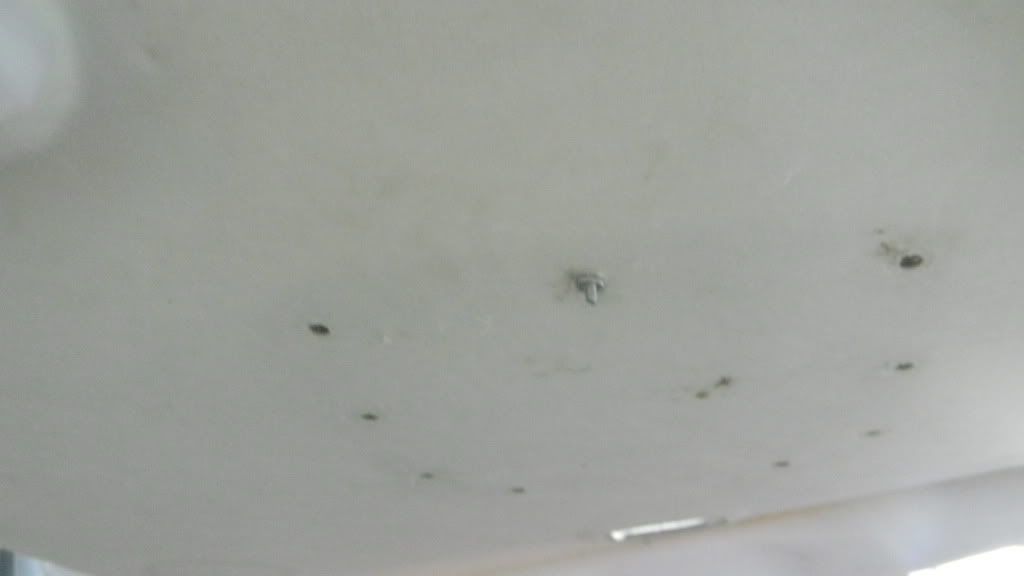 WHAT IT LOOKS LIKE BEHIND THE HEADLINER
NOW IT'S TIME TO CLEAN THE HEADLINER, MAKE SURE YOU ALREADY TOOK OF THE FABRIC OUT.. UNLESS YOU WANT TO USE THE SAME ONE, WHICH I DON'T RECOMMEND, JUST GO OUT AND BUY SOME HEADLINER FABRIC, IT'S ONLY 35$..
STEP 13.(CLEAN HEADLINER)
THIS STEP IS PRETTY STRAIGHT FORWARD. JUST CLEAN THE HEADLINER, AND TAKE ALL THAT BAD USED FOAM OUT.
TO DO THIS GET A METAL BRUSH, AND IT'LL BE A BREEZE TO TAKE OFF.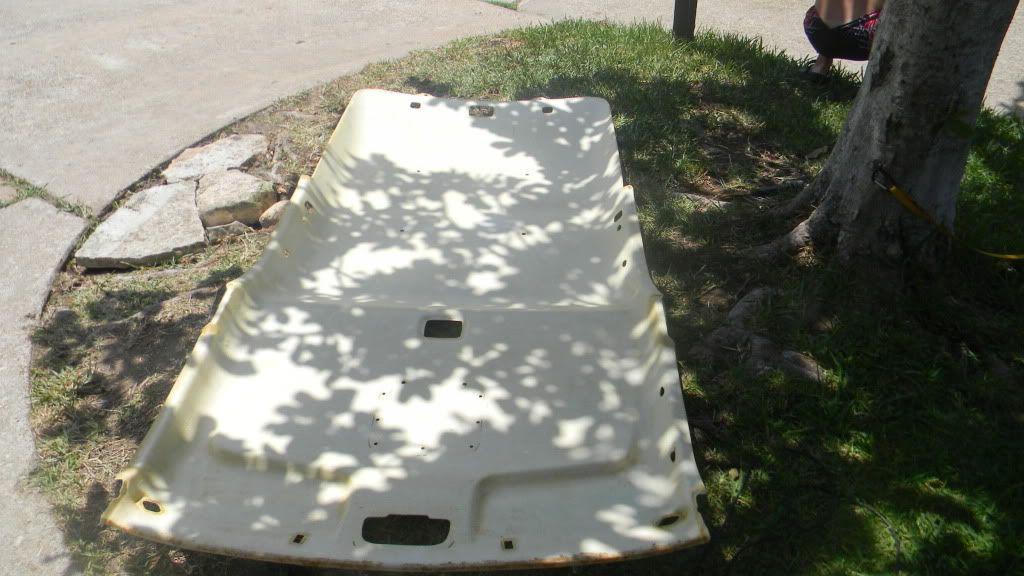 THIS IS WHAT IT SHOULD LOOK LIKE CLEANED.. VACCUM THE FOAM AS YOU TAKE IT OUT OF THE HEADLINER.
NEXT YOU ARE READY TO PUT ON SOME HEADLINER FABRIC MATERIAL!!