Discussion Starter
·
#1
·
So, I had been racking my brain over the last couple of weeks since I got rid of the LoadWarrior for a good way to re-mount the shovel and Hi-Lift I had on my rig.
Now, I'll go off topic on that one for a moment. I sold the LoadWarrior to a guy in our local club here in VA; then used a Yakima Basket Case for traveling with a Thule Bag up top; and it just wasn't cutting it for things that the family has to travel with and the room in the X's cargo area (stroller, port a crib, luggage, misc. crap, etc...)...so I got to thinking I'd use this Coleman Safari Rack I had bought from Costco a few years back for $75. No extension for that rack though; like the Load Warrior offers...so I thought at least.
Did some research and found that the Coleman rack is made by a company called SportRack (owned by Thule) for Canada..and they offer an extension for it just like the Load Warrior has. So, tooling around on eBay I found a SportRack extension piece for $20 new! Snagged it up and now for a total of $95, I have a Coleman rack that is almost identical to the look of the Load Warrior, but at a 1/4 of the total cost of a Yakima Load Warrior set up the same way. Only problem; the Yakima Shovel Mounts and Hi-Lift mounts won't fit it as the tubing is smaller on the Coleman rack. I could have picked up more of those from a local bike shop if they fit; but no such luck...so time to make up some of my own stuff.
Did a lot of looking around on the Googles and Internets; and came up with a solution for the shovel mount (can do an ax mount too if I really feel the need and put it on the other side of the rack. For now though, the shovel is used first as a tester since I have about 6 of these damn shovels at the house lol.
Here's what I used:
I saw this guy's idea over on ToyotaNation.com and decided to go with it, but didn't know what the clamps were called. So, thanks to the fine peeps on this forum I discovered what they were called and, sure enough, Lowe's had them in stock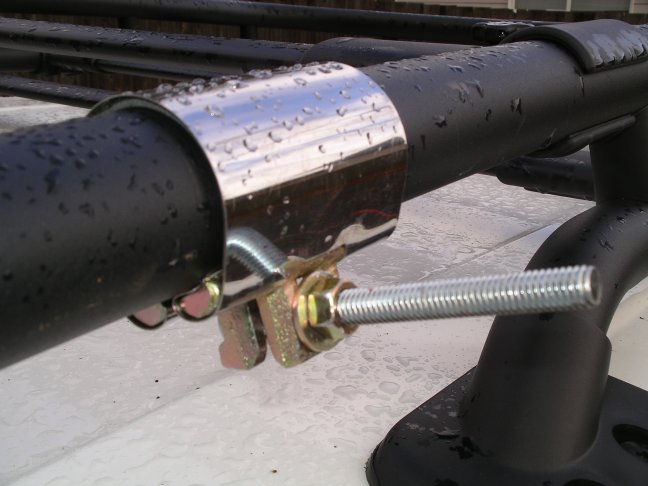 They're medium pressure pipe repair clamps. It's the 3/4" size and comes with a hasp and a carriage bolt, nut, and washer. I couldn't use the bolt it came with as it wasn't long enough...so I bought a pair of 3/8" x 6" carriage bolts for the total cost of $2. The pipe repair clamps were $4/each.
I wanted to use this for my Hi-Lift solution; but it just didn't seem too trustworthy to put a heavy Hi-Lift up there with those clamps, so I assigned that to the shovel.
The process of mounting them up? Easy. Clamp the repair clamps around the bar of the rack, and then insert the carriage bolt, some nuts, washers, lock washers...tighten it all down, and put the shovel on there and tighten that down with wing nuts. Yes, you have to drill holes in the shovel handle, but it doesn't really affect the integrity of the shovel as I whacked it on the ground afterwards a few times and couldn't get the handle to break or splinter.
The pictures of the finished product on the shovel mount:
Next, it's the Hi-Lift's turn. I had to go no further than the good old CX for the inspiration I needed...and found it in one of Tuff's posts about how he did his (thanks Tuff!). I went out and bought the necessary bolts, washers, lock washers, nuts, and that was it. Total cost about $12.
1/2" x 5" hex bolts, and 1/2" washers, lock washers, and nuts. Pretty easy stuff. The only part that makes you a little wary of the whole situation is drilling into a nice, pretty Shrock bumper tube. But for me, the alternative was a no go; and that was buying mounts from
www.fourtreks.com
that are $105 and place the Hi-Lift in the same spot. I couldn't see myself spending more on the mounts than I did on the Hi-Lift by almost double.
So, again pretty easy to do. Drill two holes in the bumper; make sure they're straight, measured, etc....and insert the two 1/2" x 5" hex bolts...button it all up with washers, lock washers, and nuts...then use wing nuts again to secure it and you're done.
Pics of the aftermath on that one:
Some shots of the Coleman Rack with extension that ends up costing around $95 compared to the nearly $500 for the Load Warrior set up the same way:
It should be noted that obviously this only works with the rack set up and bumper set up that I have on my rig. If you've got no rack, and a stock bumper, than this probably won't work too well for you
But, for those that have both and are looking for some cheaper alternatives to mounting solutions...well, there you have it.
The good news for me is; when I'm going to be doing some wheeling where I don't want the extra weight on top raising the center of gravity, I can simply take off the rack but still have a place for my Hi-Lift on the trail rides...the shovel mount? Well, not too big of a deal. I can put a shovel inside my rig and not worry about it too much for a trail ride.