Discussion Starter
·
#1
·
Ok, first of all this was pretty simple to do, it took a few hours from beginning to end. Started off by just removing the rack, the hardest part of all was finding the star pattern wrench key that fits all the screws.
It looks real funny without the roof rack, i met another X driver at an intersection on the way to town to get the bedliner, and he threw his hands up like "why would you do that?" haha.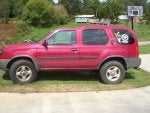 Next i just put two coats of bed-liner on.
Then just re-assembled everything and screwed it down!
I wont be putting the basket or the roof wing back on, i like the new look, Some will love it,some will hate it, but if you plan on doing this just have about 3 cans of rust-oleum bedliner to avoid making multiple runs to the store. Tell me what cha' think!