Discussion Starter
·
#1
·
OK, New guy here. I've had an OLD Land Cruiser, Jeeps, 4X4 pickup, etc. - but never paid much attention to the Xterra. Always associated Nissan with the original Datsun name and remembered they weren't the finest examples of vehicle engineering...
But I went looking for a cheap, older, beater vehicle this past February. Found a 2003 Xterra on Craig's List for pretty low bux. Took a look - it needed work and was throwing a knock sensor code, and had just under 204,000 mi on it. But something about it felt right, and the price was negotiated to a comfort level. I bought it. Had some work done, slapped on new tires (Starfire SF-510s), and did some more work myself - including the knock sensor relocation (worked like a charm BTW).
It really grew on me - I was driving it more than my regular ride. It was old, had a LOAD of miles on it, it didn't look as good as it once did, it had a few things that were kinda worn out, it smelled a little funny and made occasional odd sounds, it sometimes had small non-criticall fluid leaks - heck, we were a perfect match for each other. Named it Lazarus, cuz it felt like I brought it back from the dead.
So the more I drove it the more I loved it. In July I spotted a 2012 PRO-4x with manual transmission. I figured if Lazurus was still running as great as it was after it's obviously rough 200,00 plus miles there must be something to this Xterra thing. Checked out the 2012. Cut a good deal and a pretty good trade on my 2007 Mitsubishi Outlander. The PRO-4X came home. Heres a pic of both: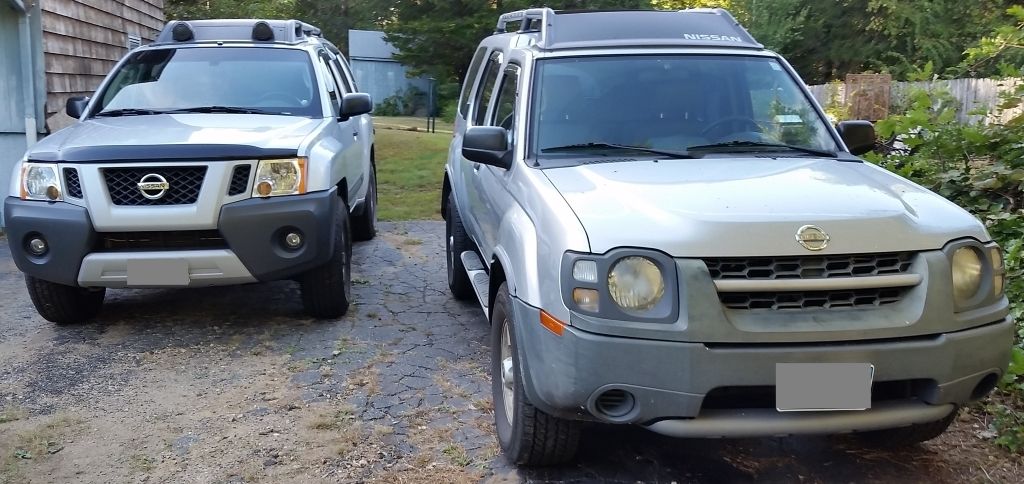 Anyway, Lazarus had the same problem all older trucks seem to develop - the darn headliner kept trying to engulf me. It was getting unmanageable. So a couple weeks ago I grew a pair and attacked the project. I had decided I did not want to put fabric back up since I may very well end up having to do it again. So, I decided on paint. I tore out all the trim and removed the headliner board. Got it inside at a friends shop. Peeled off all the old fabric, then hit it with a brass wire brush to clean off all the old cruddy foam. Wiped down with solvent and dried. The whole process was actually a lot easier that I had expected.
On to paint. I shot it with two coats of
#2081
Rustoleum Light Gray Primer, waiting a day between coats. Took about 3 cans to get a good even coverage. Actually looked pretty good, but the fiberglass board did have a few minor ripples in it and they were glaring with a solid color. I wanted something to give me a little random textured finish to hide any irregularities. I found it in Krylon Make It Stone (#18201 Black Granite). I got a little nervous when the can said it covered 6 sq. ft., sounded like it was gonna get a little expensive! Still I figured I'd never have to do it again. And when I got into painting I realized that the listed coverage was if you were looking to get the same heavy dark finish that was on the cap. That's not what I wanted, I just wanted texture on top of the gray that was already painted on. In the end I used the Krylon, spaying from about 2 ft from the surface and keeping the can moving pretty fast to get just what I wanted. Only took two cans for the look I was after. Here's a few pics: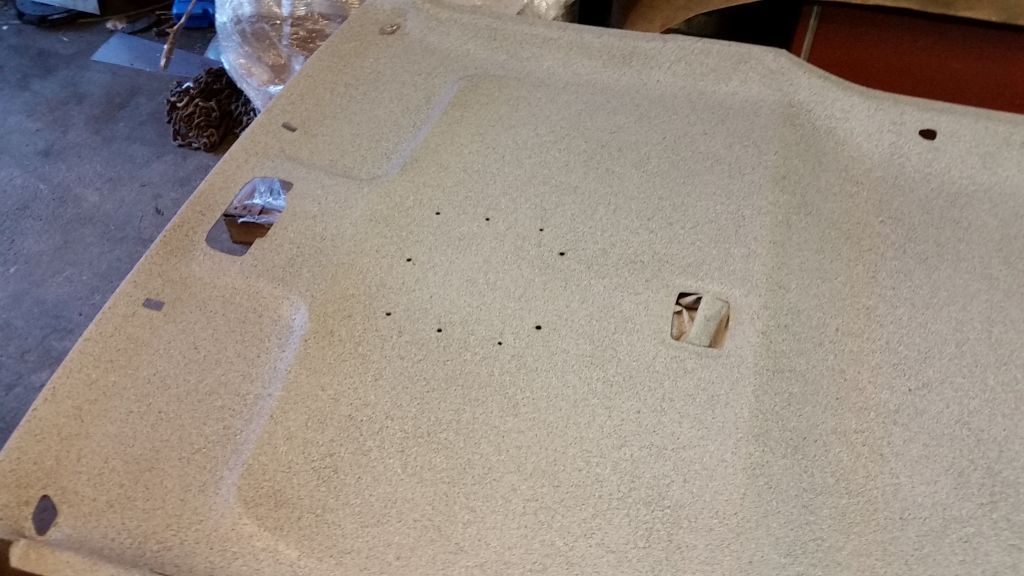 The lighting in the shop sucked - pic shows a horrible yellow tint - this is NOT an accurate color.
This is the texture I got - looks like I had a custom granite headliner cut for me.
The look from the rear cargo area.
And here's how it looks from the passenger front seat.
I couldn't be happier! This thing looks REALLY good! Everybody that sees it wants to know how it was done. Still smells of paint pretty strongly, but it's getting better. And if the roof gets dinged on the inside - PFFFFT... all fixed. And of course now every little smudge on the plastic trim or the visors shows up a lot more.
Now if I could only find a process to make ME look so much better for so relatively little effort.....