Air in he brake line soft pedal
---
Ok so my 04 needed a brake fluid flush and decided against doing it myself. Checked out yelp and found a shop with good reviews. Dropped my car off 3 hours later still not done, the guy says the master cylinder is leaking causing air to get into the lines making the pedal soft. I've always checked my brake fluid never saw the level change and never saw any fluids leaking where I park also never had any problems with the brakes especially since I drove 4 hours to the mountains through rain and snow yesterday and did not have a problem with the brakes. He shows me the spot where it's leaking which is where the master cylinder hooks up to the brake booster he points out a faint trace where maybe something trailed down slightly then dried up cause its dusty on the booster but you can see a trail where some kind of fluid may have at one point ran down it. For all I know it could of been rain dribbling down since I drove here in the rain. So this guy is saying I've got to replace the master cylinder in order to drive it. Kind of pissed since I drove here fine. Can anyone else pitch in and tell me wether or not its possible for the cylinder to dribble slightly or any other input?

Thanks
---
don't stop till its fixed
Addict
Join Date: Sep 2010
Location: Raleigh, NC
Posts: 504
Mentioned: 0 Post(s)
Tagged: 0 Thread(s)
Quoted: 7 Post(s)
2006 Xterra
Any seal can leak... it seems like there is evidence of it from at least a while ago - if they have good reviews, you may give them the benefit of the doubt.

It may be possible, if a pressure bleeder was used and applied too much pressure, that a seal could have ruptured or fitting split or something. I've got a motive pressure bleeder that can bleed the whole system (including master cylinder), but you're supposed to find the setting for your make/model before you start.

If you don't like what they offer, you can take the vehicle somewhere else for another opinion... tow it if you feel that strongly.
---
Dustin Tarditi
Raleigh, NC
2006 Granite S
Chrome can go to hell
Join Date: Nov 2008
Location: oceanside, CA
Posts: 2,161
Mentioned: 0 Post(s)
Tagged: 0 Thread(s)
Quoted: 1 Post(s)
2004 Xterra
i would start with the least expensive troubleshooting step first, thats just good mechanics.
flush out the old fluid with new fluid
inspect the brakes. look at the fluid supply lines and look for leaks there. also see if the pads are getting low.
i doubt the fluid is leaking and if it was the brake light would come on indicating low fluid level. the fluid flush should do it. Also, I would ditch the shop and tackle this yourself its really easy and you can keep bleeding until you know the fluid is all clean. i did mine and the old fluid was near black.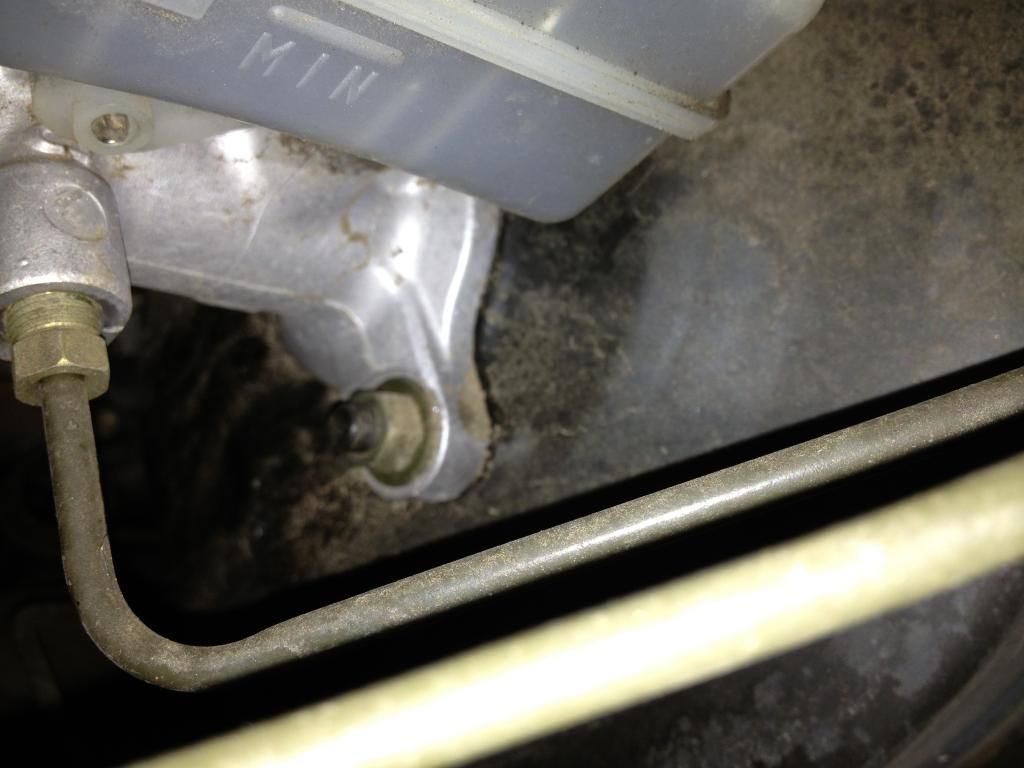 There is a picture of the master connection to the brake booster the mechanic said it was leaking underneath the master and in the picture you can see where maybe something might of created a trail but I ran my finger across it and there was no oil or fluid that I could feel just dust. I was reading the FSM and it said something about a smoke test to find brake leaks. Was wondering if this is something worth trying or if there was another way of determining if it is leaking.
The mechanic eventually got enough air out of the line to where the pedal felt like how it normally feels which is perfectly fine to me.
The brake pads are good no fluid leaks around those connections none seen around the master cylinder or booster, and the fluid was changed.
---
don't stop till its fixed
So if he used a pressure bleeder with the wrong setting he could of blown that seal? It would make sense because there is no evidence of it leaking fluid I have never had my brake light come on, no fluid has ever been added since I've had the car and put 40k miles on it so far. I thought it was interesting that he knew exactly where air was getting in even though those traces of leaks he pointed out was complete BS. How many different ways are there to bleed the fluid and on the pressure bleeder what is the setting you are suppose to use?
---
don't stop till its fixed
Chrome can go to hell
Join Date: Nov 2008
Location: oceanside, CA
Posts: 2,161
Mentioned: 0 Post(s)
Tagged: 0 Thread(s)
Quoted: 1 Post(s)
2004 Xterra
hard to tell in your pic man, its focused on the reservoir. however if there is no oil when you run your finger across there then its not a leak. if pressure is restored in the pedal than youre good. there are no leaks.
Yep that's what I figured it all sounded fishy thanks for the input
---
don't stop till its fixed
Addict
Join Date: Apr 2011
Location: Oregon
Posts: 733
Mentioned: 0 Post(s)
Tagged: 0 Thread(s)
Quoted: 0 Post(s)
I think the xterra brake pedal is naturally soft. So maybe he thinks it should be firmer than it is, and is blaming it on air leaking in. I think if you had a leak and air was getting in, your pedal would be going to the floor, and not doing anything. It would be sucking air in every time you used the brakes, and that air would add up fast.

I first thought my xterras brakes sucked. Because I was used to driving my rx-7, and those brakes are very FIRM.
Phreak
Join Date: Aug 2010
Location: Raleigh
Posts: 1,753
Mentioned: 0 Post(s)
Tagged: 0 Thread(s)
Quoted: 1 Post(s)
2002 Xterra
I love the brakes on my Xterra. I hate tooo firm brakes. Cannot stand them.

You said :how did he know that it was coming in there?

Assuming he Did not blow the seal its called good Auto mechanics. o.o If he has had some experience and has done many of brakes then that is how.

However if he did blow the seal then he probably knew it was leaking from there because he blew it. lol.

Also yes it is possible for a cup seal to blow and cause a little leaking. The funny thing about cars is they can take one hell of a beating and still run while missing every part on them. They can also stop running because of something small and insignificant. Maybe driving through the mountains was that master cylinders final performance and it gave up the next day after the truck cooled down and the seals contracted.

If you bled the brakes and still have a soft pedal something is definantly wrong. Sticking caliper... Leak in the line... Bad master cylinder etc... Now if he replaced the Master and came up with another problem then I would be pissed.
---
Last edited by ShiftingSkys; 12-28-2012 at

11:03 AM

.
Currently Active Users Viewing This Thread: 1

(0 members and 1 guests)
Posting Rules

You may post new threads

You may post replies

You may not post attachments

You may not edit your posts

---

HTML code is Off

---