Noob
Join Date: Jan 2009
Posts: 6
Mentioned: 0 Post(s)
Tagged: 0 Thread(s)
Quoted: 0 Post(s)
2002 Xterra
There are some pretty sick pics on this website, nice to know you can supe these trucks up and my ex isnt just one of those stupid soccer mom cars!
Living it UP in the Mtns
Join Date: Nov 2007
Location: Jefferson, CO
Posts: 1,394
Mentioned: 0 Post(s)
Tagged: 0 Thread(s)
Quoted: 0 Post(s)
02 & 02 Xterra
Keep working on it an keep us posted on the progress.
---
Kev - Alpine Spirit - 2002 X, Locked and Swapped
RONIN Wheelers
-
Alpine Tribe
Seasoned
Join Date: Mar 2008
Location: On the left
Posts: 167
Mentioned: 0 Post(s)
Tagged: 0 Thread(s)
Quoted: 0 Post(s)
dont know if you want it but here is a general Idea of what it took when i did my conversion back in 02 hope it helps.

1.Front diff = Had to buy all the mounting hardware new.
2. SLR Diff Drop Kit 150.00+ shipping (An Option)
3 Half shaft's= Had to buy new mounting hardware
4 Knuckle's = Replace rear seal
5 Rotors/ = Had rotors resurfaced and Replaced all seals and Bearings
6 Calipers rebuilt them and new Pads
7 Auto Hubs =Had to replace missing the C-clip and Star washer =18.00 Dealer
8 Warn Prem. Hubs =150.00 (an option)
9 The hub itself I had to replace 1 with new.= Hub 116.00 Dealer
10 Calmini Steering (An Option) package deal when I bought other parts ***Junked the Calmini steering after 1 year IA was Toast***
Also did mod to Idler arm 150.00
11 Replaced all Tie Rod ends. (not really needed but did it)
12 Transfer Case = Drained oil and replaced 200.00 from Ebay
13 Transmission = Drained oil and replaced filter = Filter kit 27.00=540.00 for the Transmission
14 Transmission cross member
15 Rear Transmission mount =50.00 From Dealer
16 Rear Drive shaft and Front drive shaft= Rear Drive shaft 130.00
17 Full skids= Skidrow skidplate = An option 540.00 from AC
18 LSD Mod to change slip tourq from 135+/- Ft Pounds to 230-260 FT pounds. 100.00
19. Shrockworks sliders 380.00__________________
__________________
---
2Wd converted to $X$ then SAS'ed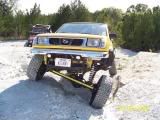 Noob
Join Date: Jan 2009
Posts: 6
Mentioned: 0 Post(s)
Tagged: 0 Thread(s)
Quoted: 0 Post(s)
2002 Xterra
Imhin thanks for the info. I plan on having my truck for a while so at least now i have a good idea of what i need. For now i just want to get the 4wd in and i can think about mods later. I do a lot of boat towing w/ my X and the 4 wd would enable me to get in hard boat launces and tow dirt bike and quad off road to trails.

I use my X as a workhorse more than anything its my everything vehicle I drive to work with it throw my surveying equip in back and tow crap . Has any body seen or heard of guys putting plows on these?
ADMIN
Join Date: Oct 2006
Location: Freeport, Tx
Posts: 11,456
Mentioned: 0 Post(s)
Tagged: 0 Thread(s)
Quoted: 1 Post(s)
2000 Xterra
i have alot of the stuff needed to instaoll the 4x4.....
i have:
front diff
hubs
half shafts
crosmembers
some replacment rotors
here is the link to my sale page.... and if you buy all the parts i will cut you a deal on some of the prices
http://www.clubxterra.org/forums/showthread.php?t=6618
---
**New site rules and guidelines** Click Here
Seasoned
Join Date: Dec 2007
Location: NC
Posts: 111
Mentioned: 0 Post(s)
Tagged: 0 Thread(s)
Quoted: 0 Post(s)
2000 Xterra
I would just use a divorced d300 a D44 a 4 link some f150 coils some cool cross members with some j-joints and hiems and be done with it. Just my 2 cents.
Noob
Join Date: Mar 2017
Posts: 1
Mentioned: 0 Post(s)
Tagged: 0 Thread(s)
Quoted: 0 Post(s)
I have an 08 would it be any easier to do a 4x4 swap and what would I need?
Currently Active Users Viewing This Thread: 3

(0 members and 3 guests)
Posting Rules

You may post new threads

You may post replies

You may not post attachments

You may not edit your posts

---

HTML code is Off

---