Noob
Join Date: Dec 2012
Posts: 3
2006 Xterra
New Head Unit for 2006 S
---
(First post, so let me know if this is in the wrong place or if I've done something wrong)

I'm looking to put in a new head unit in my 2006 S. Besides changing my oil this will be the first thing I've actually done on my X myself. I'm pretty sure I've decided on a double DIN but could be easily swayed. I guess I'm thinking double DIN because I think the shelf below the single DINs will look cheap. In some of my research (looking at Best Buy because I have a $75 gift card) I think I've settled one the Pioneer FH-X700BT. Any thoughts?

Here's really all I'm looking for in my new head unit:
Bluetooth
Aux in
USB
CD Player
Not super super flashy. (This is a truck after all, not a sports car, right?)

This one isn't super important, but I would like to avoid tiny buttons. Larger buttons/dials will be easier to operate while driving. Hands free calling is a bonus, but not a deciding factor...

Would like to stay under $200 for the head unit itself, I know the mount will be a little extra. I have the stock sound system so I don't need anything especially powerful.

Once I decide on a head unit I'll make another post about installation. I really want to do this installation myself. Will the head unit come with installation instructions? Are there basic instructions for the Xterras out there somewhere? I basically know nothing, but badly want to learn. Any links to resources would be great.

Thanks in advance!
This is much easier to do on an 06 than it is with newer models. I had an 07 and found it to be relatively easy mod to do yourself. I put in a double din unit in my previous truck and it wasn't very difficult at all. Since your post is a while back I'll ask first it you have already done the mod. If not I'll chime back in with some info.
Noob
Join Date: Dec 2012
Posts: 3
2006 Xterra
I haven't done the mod yet. Got busy and had to put it on the back burner for a bit. I'd definitely be interested in any advice!
Easy as pie. Make sure you have your new harness wired up and ready to plug in. Pop the little shelf lid above the radio carefull not to scratch anything. Remove the single screw you see. Gently pull back on the entire bezel piece surrounding the radio. The radio will not move, you're just pulling the piece around it. Don't pull to hard. You can leave all the electrical connections in place. Put a towel over your shifter so you can carefully let the entire bezel assembly rest on something soft.
At this point the radio is easy to remove. You can see the side mounts which are bolted to the frame. Remove the screws that are mounted to the frame, then carefully pull the radio out a little bit so you can pull out the connectors in the back of the unit. Remove the side mounting brackets from your old radio and bolt them on to your new one. Plug in your new harness to the back of your radio and attach the other ends to the vehicle's. There is also an antenna cable that needs to be plugged in too.
Push the dash bezel into place so it snaps in. Screw it back in at the top and pop the little shelf thing in and you're done! Add the trim plate to the front of your new HU.
I'm getting ready to replace the HU on my 2012 S which I guess is a little more intricate as the radio is now attached to the center dash bezel.
Anyway, the above is from my memory a couple years ago. I hope it helps.
It really is easy. The hard part is making sure your new harness is correctly wired.
Oh, as long as you are carefull it isn't necessary to disconnect the battery. At least I didn't but others may.
Good luck!
Noob
Join Date: May 2013
Posts: 2
2013 Xterra
I just put that same unit in my 12 xterra. Pretty simple, I watched a YouTube vid on removal but the difference with the 09s and up is removing the 3 screws now under the top dash tray and about 15 torx screws holding in the radio and hvac controls. I got my pioneer from crutchfield.com $150 and it included a wire harness to connect the factory wire an antenna adaptor and the replacement center dash plate too.

As far as that pioneer goes, the sound is night and day difference. Bluetooth for the phone works awesome ( you need to use the mic it comes with) and the Bluetooth audio streaming has been great too. My only complaint is that the lighting on the unit is a little too bright even with the dimmer on but I'm used to it now.
Noob
Join Date: Sep 2013
Posts: 1
2006 Xterra
Hey guys. New here... Just installed the Pioneer myself. Radio powers on fine, receives info from antenna, but no speaker output. Any thoughts on what it might be?
Seasoned
Join Date: Nov 2012
Location: Southeast Texas
Posts: 212
2003 Xterra
well Ive had a couple of Pionner's myself. and they are powerful. They are nice to have when you got a full system and you like bass. I personally have a high end Kenwood deck in my X and its a single din and its not a cheapy look to it either. So look into some other brands like Kenwood, Sony, JVC, and Alpine. If your able to play with some of them and see what kind fits you best. I have my Kenwood because my uncle gave it to me and it was in my first vehicle (was a 1990 Isuzu single cab pickup and it hammered my 12 inch Pioneer subwoofer that i had at the time) just pick what suits you best. and either way single din or double din it will deffentely look good in your X. Make sure you buy a wire harness adapter plug (can be found at walmart for about $10-$15) and wire up the wires by color code. dont know how to pull the radio out of the newer ones as i own a 03' X lol. And to jeffinaustin check the wires on the speakers t see if they are wired up correctly. if they are check the wireing where you wired the deck in. if there not loose at all you got a defected deck. If its brand new you can send it back to where you got it or to the Pioneer company and should get it fixed or replaced. if you bought it at a pawn shop used try to see if they can give you a refund, unless they have a sign that says "all car audio is sold as is with no refund or exchange". if you bought it off a private owner then you basicly got screwed over with money. best t try to sell it and scrap what you can to get your money back(includes Ebay).
To CrimsonX here's a pic of my Kenwood deck so you can see how the single din kinda looks like with the dash kit. I do have it up for sale for $125 inluding the dash kit and wire harness adapter plug, if your intreasted let me know and Ill give you more info about it
[IMG]
[/IMG]
[IMG]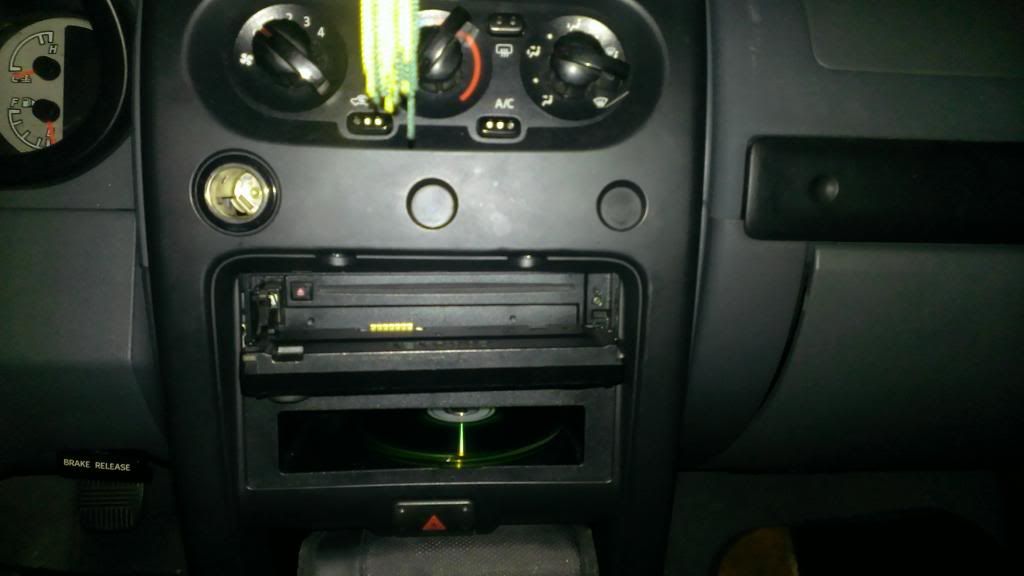 [/IMG]
[IMG]
[/IMG]
Noob
Join Date: Oct 2013
Posts: 1
2000 Xterra
Any one recommend me branded place, from where I can buy 12 xterra tires online..
Seasoned
Join Date: Nov 2012
Location: Southeast Texas
Posts: 212
2003 Xterra
discounttire.com
---
2003 Nissan Xterra XE 5-Speed RWD 4Cyl.
Miles 100,000+ and climbing
(X) 12 inch Kicker Comp VT
(X) 800 watt 2 channel Sony amp
(?) Component Door Speakers
(?) Kenwood Head unit
() Nissan GTR VR38DETT twin-turbo V6 swap
() AWD Conversion
(X) Enjoying the build
Currently Active Users Viewing This Thread: 1

(0 members and 1 guests)
Posting Rules

You may post new threads

You may post replies

You may not post attachments

You may not edit your posts

---

HTML code is Off

---