Member
Join Date: Dec 2012
Posts: 68
Mentioned: 0 Post(s)
Tagged: 0 Thread(s)
Quoted: 0 Post(s)
2000 Xterra
Aluminum radiator vs Plastic??? HELP!!!
---
Im in need of ordering a new radiator because my plastic one is cracked up top and I wanna know the pros vs cons of having an aluminum radiator??? anyone with experience or if you have one please respond lol. i know its more expensive but i believe its worth the price. btw i have a 2000 xterra.
Administrator
Join Date: Apr 2009
Location: Northern Alabama
Posts: 8,094
Mentioned: 1 Post(s)
Tagged: 0 Thread(s)
Quoted: 85 Post(s)
2000 XE Xterra
No experience with the all metal ones but certainly they will be less prone to cracking the tanks then a plastic tank model. If you have to replace the radiator I suggest installing one from a 2002 S/C model as it has a thicker core and will increase the cooling capacity/efficiency of the system.
2000 radiator on the left and the 2002 S/C radiator on the right. It is a direct swap no fabrication needed to get it to fit.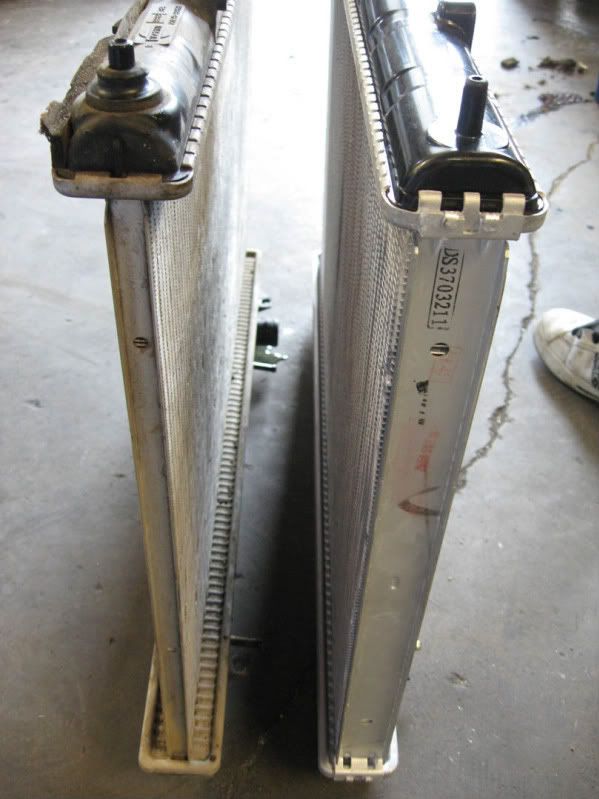 ---
Do you know what "nemesis" means? - Brick Top
Addict
Join Date: Sep 2010
Location: Raleigh, NC
Posts: 504
Mentioned: 0 Post(s)
Tagged: 0 Thread(s)
Quoted: 7 Post(s)
2006 Xterra
Only downside I'm aware of for aluminum (or "ah-loo-min-ee-um" if you're not from around here...) is expense...
---
Dustin Tarditi
Raleigh, NC
2006 Granite S
pics or it didnt happen
Join Date: Jun 2009
Location: Glendale, NY (yea it exists)
Posts: 322
Mentioned: 0 Post(s)
Tagged: 0 Thread(s)
Quoted: 0 Post(s)
2001 1stG Xterra
CSF makes an all metal one, but there copper and have a tendency to crack near the lower mounts. I went thru 2 before going back to the plastic cap style. And definitely go with the 2 core SC model.
---
"This aint gonna be no cake walk in the tea park"
([ ][--o--][ ])
Phreak
Join Date: Sep 2010
Location: Oregon
Posts: 3,111
Mentioned: 0 Post(s)
Tagged: 1 Thread(s)
Quoted: 1 Post(s)
2000 4x4 Xterra
I am a firm believer in all metal radiators.
When I was a hard core off roader, there were several times I need to piece together a damaged radiator.
You can't do much with a plastic thing in a hundred pieces! On the other hand a small torch, solder and flux can get you home, when confronted with such damage.

I know others will tell you they never had a radiator issue and they are fine with plastic radiator tanks, but I am not one of them!
I have owned two first gens and each time, they got new all metals in them! (before the the problems cropped up)
When I go offroad (and I am no longer hard core) I carry an offroad tool kit that includes torch, solder and flux.
There are many things you should pack with you on an offroad outing.
be safe, not stupid when going into the bush. A failed offroader rig , could find themselves in a life or death situation. I have tried to always go with another rig, but even that can not prepare you for survival, if you need it.
There are posts here on offroad kits. A good supply of drinking water is very important!
---
Itsme
2000 X SE
V6 SE 4X4 5spd Build and 00 Silver auto SE 4X4
http://www.clubxterra.org/forums/showthread.php?t=26084
Raise TBs (X), paint plastics (X), Replace radiator with one that is bigger and will last (X), install roof lights (X), IAB (X), better tires (X), shackles in rear(X), remove rear sway bar (X), Bilsteins (X)
Currently Active Users Viewing This Thread: 1

(0 members and 1 guests)
Posting Rules

You may post new threads

You may post replies

You may not post attachments

You may not edit your posts

---

HTML code is Off

---