Noob
Join Date: May 2010
Posts: 9
Mentioned: 0 Post(s)
Tagged: 0 Thread(s)
Quoted: 0 Post(s)
None yet Xterra
Great. So it sounds like most of us X owners don't need to drive around in 4H under normal wintery conditions like you would if you owned an Outback, correct? I'll be hitting the parking lot as soon as it snows. Been driving FWD cars in the snow for the past 30 years, so I hope I'll pick up the learning curve quickly. Thanks for the advice!
Phreak
Join Date: Jan 2012
Location: Yadkin County, NC
Posts: 1,133
Mentioned: 0 Post(s)
Tagged: 0 Thread(s)
Quoted: 1 Post(s)
2000 SE Xterra
Not sure if you have played around with 4wd yet, but one other thing to note is that when 4wd is engaged your turning radius is greatly diminished. I would say it more or less doubles. And if you are on dry pavement or even is fairly dry snow with 4wd engaged the front end will kind of hop a little if you try making too tight of a turn.
Noob
Join Date: May 2010
Posts: 9
Mentioned: 0 Post(s)
Tagged: 0 Thread(s)
Quoted: 0 Post(s)
None yet Xterra
I have played around with it a bit, but I haven't truly been "off-road" yet. Any experimenting has been on dirt roads, etc and I have noticed it hop a little because even dry dirt probably provides too much grip for 4WD. But I'm careful not to do that often at all so as to not damage my driveline. Saving the 4WD for when I really want/need it. Hope to get off-road in the spring with a buddy of mine who just bought an '08 X Off-Road.
Veteran
Join Date: Aug 2011
Location: California
Posts: 478
Mentioned: 0 Post(s)
Tagged: 0 Thread(s)
Quoted: 10 Post(s)
2003 Xterra
Definitely get some practice in at the first snow. I got my X to get back and forth to a cabin where we routinely see 30 feet plus of snow a year. Only got stuck for a few minutes once where I tried to "make" a parking space out of a mound of snow so I could get some first powder turns in. That brings me to my second recommendation, bring a shovel: It's most likely all you'll need if you get a little stuck.
---
When Hell Freezes Over, I'll Ski There Too!!
Seasoned
Join Date: Nov 2011
Location: Bedford, VA
Posts: 106
Mentioned: 0 Post(s)
Tagged: 0 Thread(s)
Quoted: 0 Post(s)
2012 Xterra
Just a word of caution - Cant remember when it was enacted, but I remember talking to an LEO about it when it passed - here in Virginia a few years back they passed some law about giving LEO the ability to give tickets improper driving/wreckless driving on parking lots for crazy driving - IE - if you are doing doughnuts in the closed mall parking lot playing around you could possibly get a ticket.. also if you cut across a parking lot (instead of doing down the aisles) was also ticketable..

brian
Veteran
Join Date: Nov 2011
Location: Oklahoma
Posts: 443
Mentioned: 0 Post(s)
Tagged: 0 Thread(s)
Quoted: 3 Post(s)
2001&2006 Xterra
I kinda miss my Isuzu Trooper when its snowy.
1. the torque on demand put a bit of delay between the rear breaking loose and the front locking up. 4wd donuts.
2. the winter button made the transmission start in 3rd. take it easy and never break loose.

For me, I dont use 4wd in the snow. I prefer the feel of when Im breaking loose and know when to back off. If Im having issue taking off, then grab 4wd.
Like others said, 4wd will get you going, but you gotta stop. give yourself an extra couple cars lengths to get stopped. ABS will activate, just watch for 4 wheel sliding. ABS can be fooled by all four tires stopped.
Spaz
Join Date: May 2010
Location: Washington
Posts: 5,822
Mentioned: 1 Post(s)
Tagged: 1 Thread(s)
Quoted: 74 Post(s)
2002 Xterra
To echo what others said... 4wd will do nothing to help you stop or corner. I've been driving in the snow for a decade and this happened last winter. There was less than an inch of snow- it just happened to be a lot slicker than it looked. I was obviously going too fast for conditions, but it's that initial assessment of those conditions that will make or break you- so judge conservatively. I am able to plow through a foot of snow with no issues...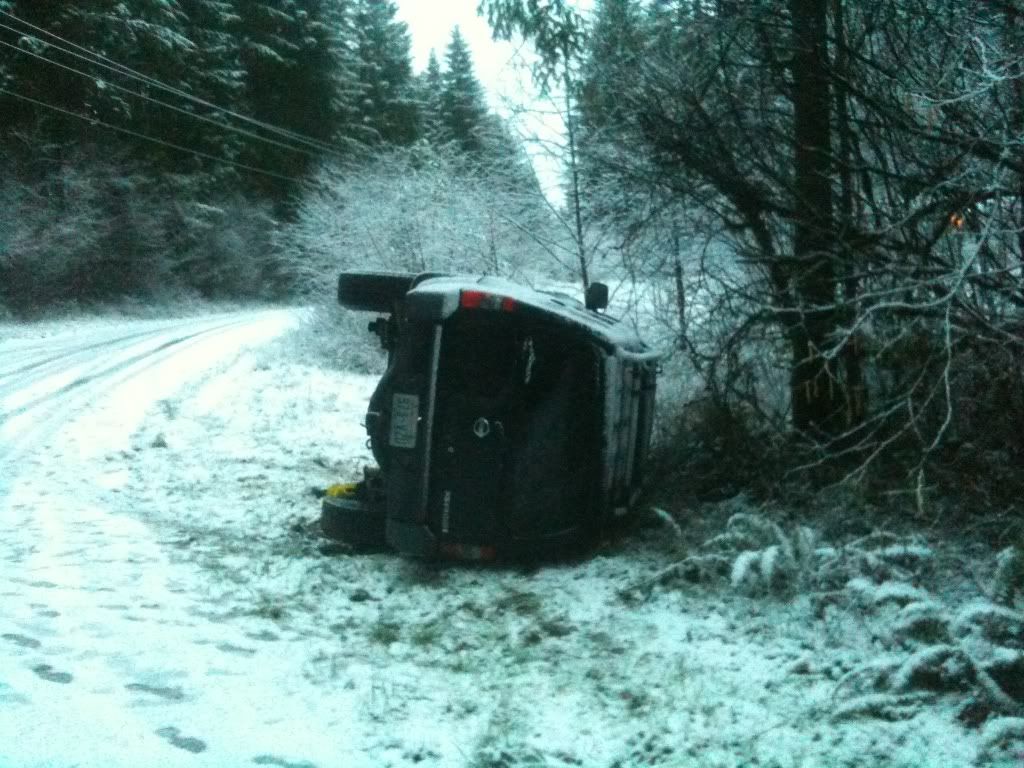 ---
2002 Super Black 5 Speed 4x4
Lift/Suspension
: AC Shackles and UCAs, Bilsteins, 2" BL
Armor
: front ARB w/ XRC-9.5 w/ synthetic line, rear Skid Row bumper
Steering
: Bandit4x4 IA bushings, AC HD TRAs, Calmini IAB; Moog TREs; 555 centerlink
Wheels/Tires
: 33x12.5x15 Goodyear Duratracs on desert runners
Performance
: K&N intake, Doug Thorley headers, Magnaflow muffler
Electronics
: backup camera, Pioneer head unit, JBL 770w amp, JL 12" W0, front Infinity Reference components, rear Sony Xplods
Administrator
Join Date: Apr 2009
Location: Northern Alabama
Posts: 8,094
Mentioned: 1 Post(s)
Tagged: 0 Thread(s)
Quoted: 85 Post(s)
2000 XE Xterra
---
Do you know what "nemesis" means? - Brick Top
Currently Active Users Viewing This Thread: 1

(0 members and 1 guests)
Posting Rules

You may post new threads

You may post replies

You may not post attachments

You may not edit your posts

---

HTML code is Off

---